As the shortlist for the Retail Week Awards 2017 is unveiled, we look back at 2016's winners. Today, Mark Price - winner of The Oracle Outstanding Contribution to Retail Award.
It's in his blood' is a cliché that is far too often loosely used. But in the case of Mark Price and retail, it could not be closer to the truth.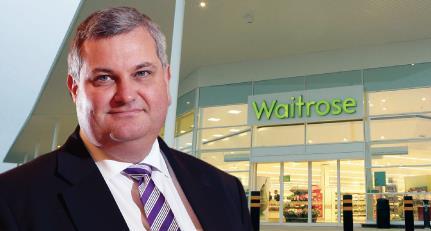 While as a child he may have had other ideas about his pathway through life, Price's journey was shaped at a young age by his father Graham, who fought in the Second World War, left the Navy and eventually set up his own grocery shop in Crewe.
Before Price was born, the area of the railway town was redeveloped and the store was the subject of a compulsory purchase order.
His father got a job at Weston's, which later became Burton's biscuits, and his entrepreneurial side was sparked for a second time. Little did he know that it would sow the seeds from which his son would reap so many retail rewards.
"After working at Burton's, my father discovered there was a niche in the market," Price recalls. "They wanted larger and larger orders and a lot of smaller businesses were not able to take the volume that was required, so they were turning to wholesalers.
"The lorries would arrive before I went to school in the morning so I'd go and help [my father], then I'd do the same after school in the evening"

Mark Price, Waitrose
"At that point, wholesalers were pretty underdeveloped, so my father decided 'there's a niche in the market here for schools, pubs, small shops and small supermarkets who can't take a minimum of 50 cases of Wagon Wheels. I'll get in there.'
"My earliest memories are of helping him," Price reminisces with a reflective smile.
"The lorries would arrive before I went to school in the morning so I'd go and help him, then I'd do the same after school in the evening.
"During holidays I'd go out with him visiting shops, schools, hospitals and suppliers – all the people he used to visit to persuade them to do business with him.
"You were very aware that if you'd had a poor week or a poor month, there was less money. There was a very tangible link between physical effort and financial reward. All of that was built into my DNA.
"After my time with him, it seemed logical that when I did apply for a job, I applied for jobs in the retail sector."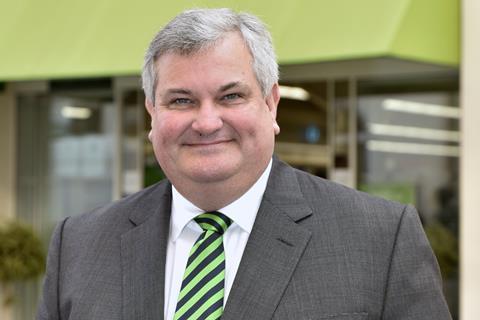 Paving the way
Those tentative early steps into retail laid the foundations for a glittering 33 years in the industry – a career which has fittingly culminated in Price being honoured with this year's Oracle Outstanding Contribution to Retail Award, just days before he hangs up his proverbial boots.
But things could have been immeasurably different. While Price has become almost synonymous with the famous greens of Waitrose and the John Lewis Partnership, he could easily have ended up plying his trade surrounded by greens of a very different nature.
That is because as a teenager Price had his heart set on a very different career – as a golfer. "I was mad keen on golf – I actually wanted to be a pro golfer," Price reveals with a grin. "I was all set to go and be an assistant pro, but my dad said 'no, go to university.'"
Price heeded that advice, reading archaeology at Lancaster University and completing a diving course in his third year as he weighed up whether to pursue a career as a golfer or a marine archaeologist.
"I picked John Lewis was because it had two golf courses and five ocean-going yachts"

Mark Price, Waitrose
But his father was quickly forthcoming with more words of wisdom that would kick-start his working life in retail.
Price remembers: "I came out of uni in 1982 and my dad said 'just apply for a proper job. Do it for two years, and if you really want to after that, you can go and do the other things.'
"So I applied for three jobs – at Thomson to be a holiday tester, which I didn't get an interview for, and at Marks & Spencer and John Lewis. Both of them offered me a place on their graduate training programmes, and the reason I picked John Lewis was because it had two golf courses and five ocean-going yachts."
No regrets… or perhaps one
Price has achieved plenty during his time in charge of Waitrose, increasing the grocer's sales from £3.7bn to £6.5bn, raising operating profits from £168m to £310m at their 2014 peak and almost doubling its store estate from 187 to just under 350.
He jokes there are "lots" of other things he wishes he had achieved during his tenure, but singles out one missed opportunity in particular.
"I'd have liked us to have bought Eat quite a few years ago," he admits. "When you look now at how the hospitality market has developed, I think that would have been good for Waitrose to have in its arsenal.
"In an ideal world, if we'd had the capacity, that would have been a really good addition and we could have now had hundreds of independent hospitality businesses. Rationally, we arrived at the right place. Strategically, if we were unconstrained by cash or resource, that would have been a nice thing for us to do.
"But I'm sure that will happen for Waitrose in the future. If you look at what's happening with grazing now, there's an opportunity to explore that."
Joining JLP
That 'proper job' took Price to Southampton, where his then-girlfriend lived, and he built on the valuable lessons learnt from his father under the watchful eye of Brian O'Callaghan – a man who would go on to become director of trading for the John Lewis Partnership's department stores division.
Price recalls how O'Callaghan took "a huge personal interest" in the five graduates who joined his branch on the south coast, which at that time operated under the Tyrrell & Green fascia.
O'Callaghan was just one of many mentors who proved instrumental in moulding Price into the highly respected retail leader he is today. He also singles out Peter O'Ryan, whom Price worked alongside during his time at John Lewis Kingston back in 1990.
"He was the kindest, most thoughtful gentleman.
"I've had the most amazing cocktail of very strong retail leaders, very strong people managers, good strategists, very talented civil servants, all of whom have helped develop me"

Mark Price, Waitrose
"I learnt a lot from him about how you can get people to work for you through a sense of pride, commitment and wanting to do something for someone just because you admired them and the way they did things," Price explains.
"It showed me how much you could achieve by engaging people and not just telling them what to do, but encouraging them to do the right things.
"I've been incredibly lucky because I worked for eight managing directors before I became managing director of John Lewis High Wycombe.
"From every one of them I learnt something about how they managed and how they thought. I've had the most amazing cocktail of very strong retail leaders, very strong people managers, good strategists, very talented civil servants, all of whom have helped develop me."
One of a kind
Despite becoming one of the highest-profile retail bosses in the country, Price has not lost his charm, wit or appealing manner.
So, when news of his Waitrose departure was revealed last September, his business rivals were among the first to flood his mobile phone and email inbox with well wishes.
"When they heard I was going, they all sent me the kindest notes," Price says. "The one that made me laugh the most, which I'm thinking of framing, was from [Morrisons chairman] Andy Higginson.
"He sent me a note saying 'the highest compliment I can pay you is that when I was financial director at Tesco, you were a complete and utter pain in the arse!'
"Waitrose competes and I want to win, I want to grow share and I want to do that for partners in our business. I am intensely competitive, but not competitive at the expense of Marc Bolland or Mike Coupe or David Potts or any of the others. I want them to do well and for that reason they all sent me the nicest of notes."
It is not just his fellow retailers who will miss the affable Price. Having steered Waitrose through a brutal recession and built the upmarket grocer's sales from £3.7bn to £6.5bn since taking the reins in April 2007, his impending departure will leave a palpable sense of loss among both the retailer's staff and its customer base.
That was clear during a brief visit to the grocer's Belgravia store, where Price greets staff with smiles and handshakes galore, complimenting them on their display of seasonal Easter ranges.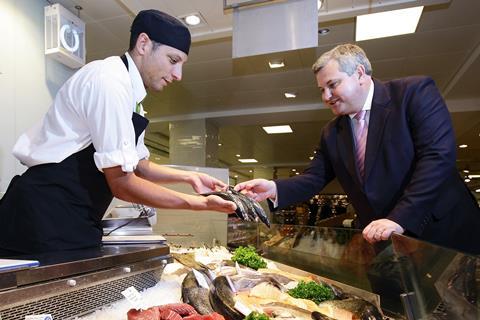 They are small gestures, but they provide a very visible boost to shopfloor workers and echo those vital lessons gleaned from O'Ryan more than two decades previously.
Shoppers, meanwhile, appear in awe of his presence, some double-taking in an apparent blend of excitement and surprise at the sight of the self-styled 'chubby grocer'.
One middle-aged shopper stops in her tracks, temporarily abandoning her brimming trolley to approach Price and interrupt his conversation with a friendly tap on the right arm. "We are so sorry to see you go Mr Price," she says, "but we wish you all the best in your new role."
Price's route to the top of the John Lewis Partnership
1982 Joined John Lewis Partnership as a graduate recruit and went on to work in various junior management roles
1989 Merchandise manager, John Lewis High Wycombe
1990 Merchandise manager, John Lewis Kingston
1991 General manager, John Lewis Bristol
1993 Managing director, John Lewis High Wycombe
1995 Managing director, John Lewis Cheadle
1998 Marketing director, Waitrose – a position that led him to join the grocer's board
2000 Selling and marketing director, Waitrose. In this role, Price oversaw retail branches and marketing
2005 Development director, John Lewis Partnership – a position that led him to join the Partnership's board. In this role, Price was responsible for JLP's new business development, IT and customer database
2007 Managing director, Waitrose – Price also became chairman of the Waitrose board and a Partnership board member
2013 Deputy chairman, John Lewis Partnership – a position held alongside his role as boss of Waitrose
Good Lord
Despite admitting his disappointment at missing out on the Channel 4 chairmanship, the mere mention of his new role as the Government's minister of state for trade and investment sparks enthusiasm from Price.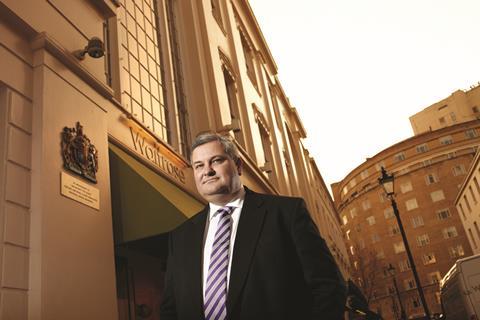 Having been officially made a Lord on February 29 – something his wife Judith and daughters Holly and Lily are immensely proud of – the 55-year-old is beginning an exciting new chapter in his business career.
"After 33 years in retail I decided that I really needed to do something different," Price explains. "I'd taken the view that, having put my heart and soul into John Lewis and Waitrose for so long, it would be very difficult to go and work for another retailer.
"I'm now very committed to doing the best job I can as minister of state for trade and investment. It will be great fun – I'm in the office for one day, on April 4, then the next day I fly to Mexico for a trade mission. That sort of sets the tone for the job really – there's lots to do."
Price believes his appreciation of what businesses need to grow and survive, plus his experience of working with thousands of small producers and exporting and importing goods to scores of countries across the globe will prove vital in the ministerial position.
I haven't been afraid to do things that are different and I think part of leadership is having the courage to do things that are different and difficult

Mark Price
But before taking up that role next month, Price takes time to reflect on a colourful retail career, supping a coffee and pausing for thought when prompted to recall his proudest achievements.
"I haven't been afraid to do things that are different and I think part of leadership is having the courage to do things that are different and difficult," Price maintains.
"In a sense, that's easier with Waitrose because Waitrose is about innovation. Core to that business and that brand is that it will innovate.
"Whether that was things like Pick Your Own Offers or My Waitrose or Essential Waitrose, we just decided that we would do things differently, that we would reinvent what we thought something should look like for the Waitrose customer.
"From a commercial perspective, Essential Waitrose was the thing that really moved the dial. It allowed more people to access the brand, it didn't dilute our brand values, it's now worth just over £1bn a year – and so that's been a fantastic success.
Cause for celebration
"The other thing that, philanthropically, I feel most proud of is Community Matters. The thing I'm proud about is not the scheme, how it works and its difference in giving customers a green token to choose a charity – it's the fact that the scheme costs millions of pounds every year and I haven't had one partner out of 60,000 who has said it's not the right thing to do.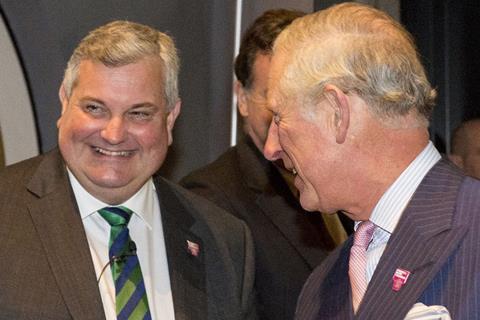 "When there are that many partners all saying it's fine to give away millions of pounds of our profits to local good causes, I think that's remarkable."
Price is "hugely proud" of Waitrose's performance throughout the recession, which he compares to "running up a down escalator" as consumers switched in their droves from established grocers to Aldi and Lidl during the downturn and changed to smaller, more frequent shops at convenience stores to cut down on waste.
But his overwhelming team ethic is epitomised by what he singles out as the "single biggest achievement" of his tenure – the fact that Waitrose's retail director, Rob Collins, will "smoothly succeed" him as boss.
He explains: "I think the most important task for any business leader is to make sure that, from the earliest moment, they have thought about their succession so that when the moment comes, it's done seamlessly.
"Rob has worked at Waitrose for eight years, he's held two board roles and done them both brilliantly well, and the Waitrose board is very happy with his appointment. They support him, there is no angst, there is no in-fighting. That's my greatest pleasure and achievement."
Yet despite all that's gone before – and his pride at the position he has left Waitrose in for the future – Price's understated summing up of his three dazzling decades in retail is typically humble, as he modestly signs off with the parting message: "I've muddled along."
Oracle Retail
Retailers need to equip themselves to serve the new fundamentals of converged retail: right product, right place, right time, right price. Oracle is in a unique position to provide true converged commerce experiences through integrated cloud applications and platform services, allowing consumers to transact, and employees to interact, anywhere, at any time and on any device.
Oracle Retail cloud services provide retailers with rapid access to enterprise-grade applications for managing critical ecommerce, customer engagement, order management, order fulfilment, loss prevention and brand compliance operations.
For more information about Oracle Retail, visit Oracle.com/retail