Amazon boss Jeff Bezos beefs up, comedian Vic Reeves turns shopkeeper and why it could be game over for husbands shopping in China.
Bezo-ing up in the world
Amazon has been at the centre of a flurry of online activity this week, although not for the usual reason that it is launching till-free stores or free fashion deliveries.
The online Goliath's founder Jeff Bezos has been the subject of a variety of jokes on social media comparing side-by-side photos of him in his infancy as a chief executive and today when he looks like, well, a Goliath.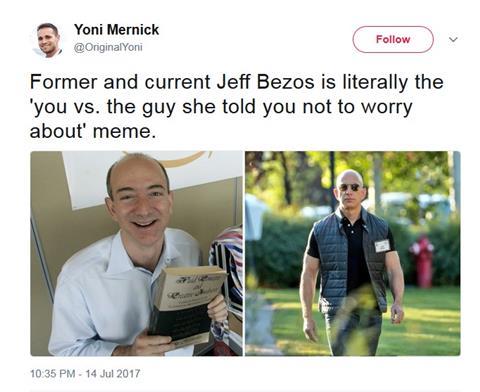 There's a time-honoured tradition of tech company founders jazzing up their look as their profits climb (see Mark Zuckerberg and Elon Musk) – but few have managed to pull off the nerd fashion staple of a body warmer with such aplomb before now.
Looks like Bezos has beefed up just as quickly as Amazon's profits.
Funnyman turned shopkeeper
Who would have thought? One of Britain's funnymen has turned retailer in one of the nation's most loved soaps.
Vic Reeves is soon to join the cast of Coronation Street – reportedly fulfilling a lifelong dream – in the role of Colin the shopkeeper.
Reeves will appear in 20 episodes of the soap. And here he is, looking the part in a checked suit and red shirt.
But how long will it be before we hear him complaining about the weather, the Tesco-Booker merger, or business rates?
Game over for shopping husbands
Being dragged around a shopping centre by their bargain-hungry significant other is the stuff of nightmares for many men up and down the country.
But one mall in China might have found the perfect solution.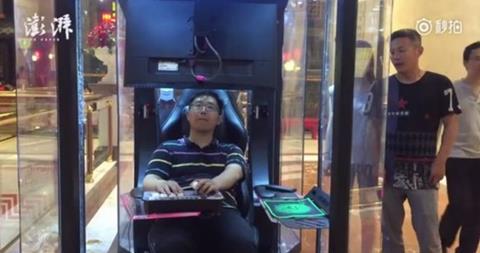 The Global Harbor shopping centre in Shanghai has installed a number of glass pods, nicknamed "husband storage", for wives to leave their spouses while they indulge in a spot of retail therapy.
According to The Paper, the pods come equipped with a chair, computer and gamepad, allowing men to sit and play retro 90s games, such as popular fighting title Tekken 3.
It's certainly a knockout idea.