Tablet and mobile orders surge as shoppers turn to web for festive purchases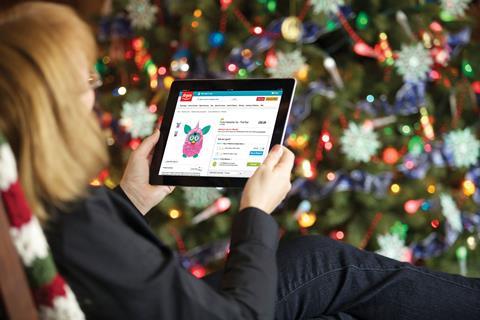 Retailers are poised for a watershed in the development of tablet and mobile shopping this Christmas.
Retail giants including John Lewis, Argos, Marks & Spencer, Waitrose and Shop Direct are already experiencing sales surges from the devices in the run-up to Christmas, and expect the trend to continue through the festive period.
Argos said mobile now represents 7% of total sales and expects this to rise to 10% over Christmas.
Waitrose online grocery sales rose 45.3% last week. Orders made using a mobile phone rose 30% week on week and 16% of online orders were made using a tablet.
John Lewis broke the million visits barrier to its mobile website last week for the first time. Etailer Shop Direct said mobile devices were responsible for 25% of its total online sales last week, with tablets making up two-thirds of those.
Shop Direct group retail director Gareth Jones said: "Overall, this Christmas will be slightly ahead of 2011 for our brands. Last week was our busiest since 2010 and early indications show that this week will be even bigger."
Toys R Us UK managing director Roger McLaughlan said: "Visits to the website via mobile devices have increased to over 40%. This time last year it was 20%. This is indicative of how much customers are using their mobile devices now.
"It also means that services linked to mobile have had to change with it. Click and collect is a very significant growth area."
M&S executive director of multichannel ecommerce Laura Wade-Gery said the use of mobiles and tablets is a "growing trend". She said: "Mobile shopping is quick, discreet and ultra convenient."
M&S retail director Sacha Berendji said: "We've already had our busiest week online, on Mega Monday we saw a record number of orders per minute and more mobile shopping than ever before."
Retailers are expected to pocket £3.5bn in sales purchased on, or influenced by, smartphones this Christmas, according to Deloitte. Deloitte expects overall online retail sales to grow 17% this Christmas.
Customers shunned shopping centres in favour of online shopping last week as footfall plummeted 4.9% in centres year on year, according to the British Retail Consortium-Springboard Footfall Monitor.
Fashion etail giant Asos chief executive Nick Robertson said: "I'm pretty confident about Christmas. But people are shopping later. Our biggest days were last Sunday and yesterday [Monday]. The way Christmas falls means we'll have a few extra days trading."
Aurora Fashions chief executive Mike Shearwood said: "We expect internet sales to increase yet again and overall sales to be similar to that of last year."
SuperGroup chief executive Julian Dunkerton said: "Customers rarely look beyond the 16th [when Christmas shopping] but when the move forward in deliveries it will prolong the Christmas period."
Dunkerton said predictions about Cyber Monday, which was forecast to fall on December 3 were incorrect and that online sales were "still building" with this Monday stronger than last week.
Deloitte expects overall retail sales to nudge up 1% over Christmas.
In grocery, consumers are expected to spread out their shopping more than last year as the usual peak trading day, December 23, falls on a Sunday.
Waitrose managing director Mark Price said: "We are going to see a bigger 22nd and 24th than we would ordinarily."
Morrisons said its peak trading day is likely to be Christmas Eve. Asda chief executive Andy Clarke said: ""There is no doubt it's tough out there, but Asda mums are as determined as ever to make Christmas special for their families."
Iceland chief executive Malcolm Walker said: "Sales are good, we are well ahead of last year. The TV ad was high risk as this one is quite sugary but it has clearly worked."
Across all sectors retailers have slashed prices to capture Christmas spend. PwC found that 69% of high street retailers surveyed were on Sale or advertising promotions in shop windows, such as three-for-two offers. This compares with 66% in the same week last year.
PwC chief retail and consumer advisor Christine Cross said: "There's definitely an air of cautious optimism. We think Christmas will be ok. There's a glimmer of, if not recovery, then things not getting any worse. We've had a couple of years of Christmases of austerity. Consumers are now willing to part with a bit of cash."
Original Factory Shop chief executive Angela Spindler said: "We've had a good year and that looks to continue through Christmas.
"Retailers shouldn't underestimate the impact of having an extra shopping weekend this year, so even if they're slightly down year-on-year at this stage, they can expect to make it up through the additional weekend."
Hobbs chief executive Nicky Dulieu said: "Quite simply, Christmas should be strong for retailers who have desirable products that customers want, and for those businesses who have been, and continue to be responsive to market conditions."