Kingfisher said its planned acquisition of Mr Bricolage in France would give it experience of operating a franchise model that it could use to expand beyond its European heartland.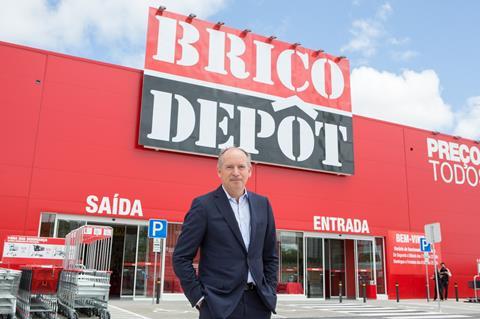 Kingfisher group chief executive Sir Ian Cheshire told Retail Week the franchise model will enable Kingfisher - which is Europe's largest DIY group and operates wholly owned stores in countries including France, Poland and China - to "go to a lot of new geographies".
The DIY giant is in exclusive talks to acquire its French rival, which operates franchised stores in locations including Mauritius off the south east coast of Africa, Cheshire pointed out.
Alongside the potential franchised expansion Kingfisher will also seek to "fill out the European footprint" with wholly owned stores, according to Cheshire. He said: "We're looking at the possibility of [expanding] Brico Dépôt, particularly through eastern Europe."
Kingfisher is already on the expansion trail across the continent after acquiring a rump of stores in Romania in April, 2013. It also opened its first store in Portugal [pictured] this week under the Brico Dépôt fascia that it operates in France and Spain.
Kingfisher also operates stores in Russia, Spain, and Turkey.
The retailer this morning reported group retail profits up 20.3% to £142m in the 13 weeks to May 3, which included its critical Easter trading period. Like-for-likes jumped 6.1% as warm weather drove demand.
In the UK and Ireland retail profit was up 35.2% to £68m. However gross margins were down around 200 basis points, reflecting higher sales of lower-margin outdoor seasonal and building products, as well as a "pretty aggressive" kitchen promotion, according to Cheshire.
He said: "We discounted aggressively, we wanted to see a strong start to the year. We probably didn't need to invest so much in discounts; we got the sales but we lost a bit of margin. And we had challenges with suppliers who found it hard to keep up with the volume. It's not one we'd repeat next year."
However, B&Q experienced strong growth of online sales, which doubled in the first quarter. Cheshire cautioned the growth was off a "small base" and that online sales only represent a "fairly tiny" proportion of overall sales for B&Q. Cheshire said the average for the DIY sector was 5% to 6% of sales, and that B&Q was still below that. But he added: "Hopefully it will be a continued source of good growth."
Cheshire cautioned that the UK was not building enough affordable housing. Earlier this month Bank of England governor Mark Carney warned that the UK's booming housing market presented the greatest risk to the country's recovery, yet Cheshire insisted the bigger threat was the lack of supply of new homes. "The concern is we're not building enough houses," he said. "I wouldn't be worried by the interest rate-led bubble idea. From a B&Q point of view, we're largely outside the M25 and it's not clear to me there's a housing bubble. There's a supply issue." ​
Outside the UK, Cheshire said France - where Kingfisher makes more than half its annual profit - was still proving challenging. Cheshire said the country is "probably the weakest of Eurozone economies at the moment". He said the housing market was fragile and that unemployment stands at 11%. He urged the French government to do more to stimulate spending.
However, he did say the challenging economic outlook presented opportunities. "We are able to pursue the deal with Mr Bricolage, which wouldn't have been possible if the market was booming," he said.
Kingfisher sales and profits up in first quarter as warm weather drives demand
1

2

3

Currently reading

Kingfisher sets its sights on expansion beyond Europe