Sainsbury's chief executive Justin King talks exclusively to Jennifer Creevy about defying critics and the grocer's 'universal appeal'.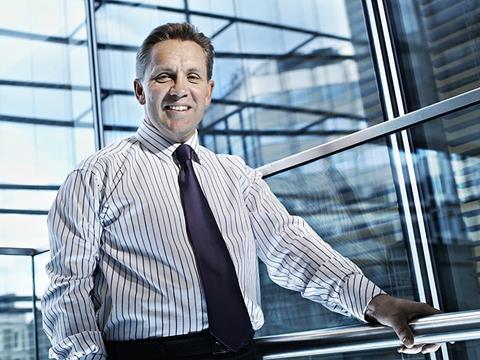 It's Friday afternoon and the mood is relaxed at Sainsbury's head office. Chief executive Justin King might be the only one wearing a shirt and tie – Fridays are dress-down and no-meetings days – but even he is relaxed.
"I can't think of the last time I was in the office on a Friday, as I'm out in stores mostly and it's a very different atmosphere," he says.
No-meetings Fridays are just one of the many changes King has implemented. He recalls: "When you make a change like that, you get a certain amount of push back. But if you ask people to put their hands up if they go to too few meetings, of course, no one will ever stick their hand up to that."
The initiative was not a whim, but, as with King's other changes, it was to improve how the business works.
King says that Sainsbury's finance director Darren Shapland told him that he gets more work done on Fridays because if he knows someone is in, they will be free.
"He knows he can wander round or pick up the phone. And that's the point. We lose people in meetings half the time," King explains.
Of course, that it is a Friday is not the only reason why King is feeling relaxed – Sainsbury's is on a high at the moment. The grocer that many City analysts forecast would be the first to suffer in a downturn has proved them wrong.
Steady progress
In its third-quarter update, Sainsbury's reported like-for-like sales up 4.5 per cent, excluding petrol, while market leader Tesco managed only 2.5 per cent.
"We believe that we have demonstrated over the past two to three quarters that Sainsbury's has universal appeal," says King. "There is no reason why in a consumer downturn Sainsbury's should have any more of a challenge than its grocery competitors."
While King cannot talk about recent trade – Sainsbury's issues fourth-quarter results next Wednesday – he says the most recent TNS data shows the supermarket group is making strong progress.
He believes the key is for a retailer to stick to its values, even in tough times. "Sainsbury's has always been about saving customers money without compromising quality," he maintains. "That is the essence of Sainsbury's, whether it is campaigns such as Good Food Costs Less or Try Something New."
The most recent element to the Sainsbury's campaign is Switch & Save, which shows customers how to save money by swapping from brands to own-label or Basics. "The power is in showing customers they can save a lot of money at no compromise to what they're eating," he says.
He is quick to point out, however, that brands are still performing well. "Brands are growing as strongly as own-label," King stresses. "What Switch & Save provides is competition."
He says: "If the price is justified for a brand because it gives a genuine taste advantage then it will still compete with own-label. And what we're seeing is brands investing heavily in promotions. Many promotions are primarily driven by brands as they are investing to protect volume. Either way, it's good for the customer."
Trading down
Contrary to what some of Sainsbury's grocery competitors have said, King does not subscribe to the view that customers are trading down. "There is no evidence that consumers are getting up one morning and deciding to buy a fundamentally different shopping basket in a fundamentally different shop," he says. "A lot of commentary says customers who normally shop at Marks & Spencer are deciding they will never go there again, and instead go to Aldi. That's not what's happening."
Instead, customers are shopping in a more intelligent way. King points to Sainsbury's Cook & Save campaign, using what it calls Try Cards – simple recipes with just one or two steps – to show customers that making a meal such as spaghetti bolognese rather than buying a ready meal will save money. "I don't think that's down-trading," he says. "It's just intelligent shopping."
He also points to research from IGD in which customers said they had done more cooking from scratch as a result of tightening food budgets and they felt they were eating better as a result rather than scrimping on quality.
"Customers are more concerned today about quality issues with food than they were a year ago. Of course our Basics are growing strongly and the organics market is in decline, but fair trade is showing good growth and meat with high-end husbandry is performing like a rocket ship.
"All of these things don't fit the conventional view that somehow there's been a massive clunk down."
Winning ways
The challenge for Sainsbury's has not been to win more customers from the other grocers, he says, but to get its existing customers to spend more.
"I've always said we don't need to win a single new customer," he says. "What we have to make sure is that those that shop with us a little, shop with us more and those that shop a lot, shop always."
Leaning back in his chair in the cafe on the fifth floor of his Holborn HQ, King is proud to say Sainsbury's is making "fantastic progress" against this test.
"We are delivering for our loyal customers much better value for money while being true to all of the values we have always held," he says. "They are realising there is no reason to go and shop anywhere else – they don't think there is a better deal down the road."
King believes that "on the whole" there is not a better deal to be found in another grocer. "Customers who shop with us occasionally for fresh food, which they know is special in Sainsbury's, are starting to notice things and saying: 'Actually, the place where I normally do most of my shopping isn't any more cheap'," he says.
Having successfully steered Sainsbury's through its recovery plan, King is now in the middle of the second phase – recovery to growth. The third phase, he believes, will be just one word – growth.
Sainsbury's has about 15 per cent market share – in the Southeast it is about 20 per cent but in many parts of the country it is less than 10 per cent. "We see huge potential for the brand in the five- to 10-year time frame," he says.
In terms of store expansion, growth will come from two strands. Geographical location and developing its existing store estate. The grocer bought 24 stores from Co-operative Group earlier this month and "they are all in the Southwest, Scotland and Wales" – outside Sainsbury's heartland.
He says these locations will give many more customers easy access to the brand. "Just before I joined we bought 13 stores from Safeway, and they were all in the North," he explains. "One analyst asked me why we did this deal as the Sainsbury's brand doesn't work in the North. In fact, those stores are now some of our most successful. The values of great food at fair prices work wherever you are in the UK – there's not something in the water that stops it north of Watford."
Of Sainsbury's existing store estate, King says "we've got more growth potential than any of our grocery competitors". He explains that Sainsbury's store estate was built up in the 1980s but because the grocer "took its eyes off the ball" in the 1990s, it did not develop its locations so out of its 300 freehold or long leasehold stores, about 275 have the potential to be developed or extended.
King laughs off the suggestion that he might buy Simply Food – the business that he created while at Marks & Spencer – to further Sainsbury's growth in convenience.
"They've announced a couple of packages of disposals but we haven't bought any of them," he says. "The question is always one of location and in convenience there is a lot of churn."
King also sees growth in non-food, despite the recession. "In a sense, non-food should be even stronger for a grocer in a downturn," he says.
He maintains the grocer has low supply chain costs and high densities in stores, therefore delivering better value for money. And, he adds, customers should be more likely to buy non-food in a grocery store to avoid having to shop around.
King believes the join between turning around the business and moving into the growth period is blurred. "Somewhere along the way there is a point where it isn't a turnaround, it's just a period of continuous improvement," he says.
City attitude
Criticism that Sainsbury's sales have recovered more rapidly than its profits irks King, but he remains calm. In his ever-smooth style, he explains that to question why profitability has not reached the level it was in 2004 when King joined is to "willfully misunderstand" the business.
He says: "Profits in 2004 were achieved at massive damage to the future prospects for the group," he says. "And we also sold the Shaw's business [in the US]."
King says: "In terms of absolute profitability, in the past four years we've more than doubled it. Then what a lot of people talk about is margin and actually, at an EBITDA level, our margins are significantly ahead of Morrisons. We have a way to go to catch up with the benchmark though, which is Tesco."
He also points out that Sainsbury's is achieving premium like-for-like growth. "About 3 of the 4 per cent is pure underlying like-for-like growth. We were always clear that we would convert sales growth in the high single digits and that's what we've done for four years running."
While many see King as the saviour of Sainsbury's, he is keen to point out that while he is prominent in the industry on issues such as food and health, it is the team that has made Sainsbury's great again.
"The biggest reason customers shop with Sainsbury's aside from location is friendly and helpful service and that is why at the start of the turnaround I introduced an all colleague bonus," he says. "So while I have been a visible spokesperson for the business on issues that are at the heart of what we do, what the customer sees is the brand. And all our colleagues are responsible for that."
Nobody would argue that King is not passionate about Sainsbury's, but his sterling record has led to speculation about him being poached to take over from Sir Stuart Rose at M&S. While he "never comments on rumours", King says: "What excited me about Sainsbury's was making a business that was once hugely successful great again, and when I look at the next few years the potential for this business is huge and I want to be part of leading that, not just watching it from somewhere else. So I don't see myself going somewhere else just yet."
Perhaps the challenge at M&S is not enough to tempt King at the moment. But while there remains more to do at Sainsbury's, its success has marked him out as one of retail's hottest properties.
Speaking up for retail
Sainsbury's boss Justin King says he is "not a believer in making special pleas for any individual industry" in a downturn, but thinks the retail sector "would be better served encouraging Government to do things that are good for the economy as a whole".
He says: "I said at the time that the reduction in VAT was misplaced, that it would be costly and complicated to implement and for many small retailers would be too much. Broadly, this has turned out to be the case. I don't think many people believe VAT has provided the fiscal stimulus that was promised."
King says the industry should put its weight behind policies that encourage the creation of jobs. "National insurance, for example, is a tax on jobs and the suggestion is already there that national insurance will be increased as one of the ways to pay the bills."
Sainsbury's signed the Government's skills pledge and King says it is supportive of initiatives such as apprenticeships and the Olympics – all of which help encourage job creation.
"As an industry, we are now one of the few that can demonstrate that people can have careers for life. We often hear that there are no longer jobs for life in our economy – and of course that requires a business to continue to be successful – but if you're a successful retailer that absolutely can be the case."
He points out that Sainsbury's has about 50 to 60 staff celebrating 25 years of service with the company every month and he is about to host his third 40-year service lunch with about 20 staff.
"We have been our own worst enemy in some ways, as the attitude has always been that somehow jobs in manufacturing are better than retail," he says. "I started out in manufacturing as my first job as a graduate trainee with Mars. But I don't think we should be shy about how great the jobs are in retail."

The tactics of a turnaround
2004
Justin King joins as chief executive from M&S

Sells Shaw's in the US

Announces recovery plan, including restoring the brand proposition of great food at fair prices
2005
Darren Shapland joins as financial director

Early signs of recovery with focus on improving availability and supply chain

Launch of strapline Try Something New Today with ads starring Jamie Oliver
2006
Addresses pension scheme's deficit

Completes£2.07bn refinancing
2007
CVC, KKR and Blackstone confirm they are in the first stages of a preliminary look at Sainsbury's, which is later dropped

Approach from Delta Two is confirmed and subsequently terminated
2008
Recruitment drive for non-food

Introduces Feed Your Family For a Fiver

Launches Switch & Save
2009
Reveals third-quarter like-for-like sales up 4.5 per cent

Buys 24 stores from Co-operative Group