John Lewis sales rose 7.1% to £91m last week as the Christmas trading period started in earnest.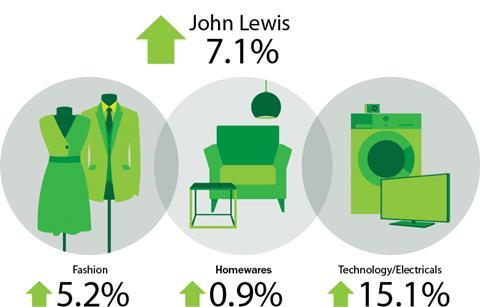 The retailer said electrical and home technology sales were particularly strong, driving the bulk of a 28.4% increase in online sales.
The category performed well across the channels - IT sales were up 48% on last year and small electricals rose 42%.
Fashion sales jumped 5.2% and the retailer said the colder weather is boosting clothing.
Tim Harrison, head of retail implementation and format development, said: "Overall it was a week which has lots to be positive about, and a reaction to our Christmas ad we couldn't have anticipated demonstrated that customers are excited about what John Lewis has to offer this Christmas."
At sister retailer Waitrose sales grew 6.8% to £124.51m as shoppers turned their minds towards Christmas. The retailer said sales across all categories were becoming more festive.
Christmas cards, wrapping paper and cracker sales were up 300%, while panettone sales increased 108%.