With the exception of Serbia, where revenues rose 3.2%, during the period from the first to the third quarter of 2013 Mercator recorded negative results in all countries in which it operates.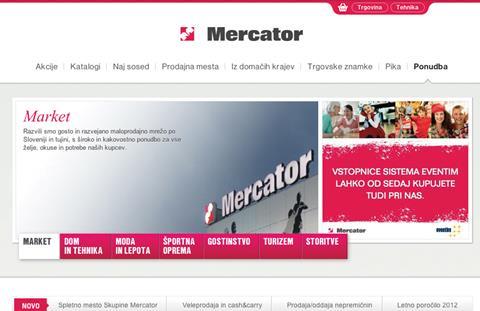 Revenues in the food group's core market of Slovenia tailed off by 3.9% while - according to Planet Retail estimates - returns in Bosnia and Herzegovina and Montenegro slid by about 3%.
However, Mercator faces the biggest challenge in Croatia, its third-largest market, where it suffered an alarming 10%decline. Losses have been trimmed quarter-by-quarter during 2013, but they were still only 20% lower than the 2012 nine-month loss of R17.6m (£14.68m).
Mercator's new management, installed in June 2012, drew up a lengthy slate of new measures and strategies for 2013 to 2016. They include centralisation of support functions, monetisation of assets, optimisation of the supply chain, consolidation of the operations of subsidiaries, and refurbishment of the existing retail network.
But it has been a tough task to transform Mercator into a profitable concern when it is lacking funds for operational investment. One key measure floated by the new leadership was to monetise its real estate assets by a sale and leaseback of its shopping centres. The plan, which would have generated an estimated R1.7bn (£1.4bn), was placed on hold at the end of 2012. Unfavourable property market conditions were cited as the reason.
An exit from fringe markets such as Albania and Bulgaria - another measure intended to improve the balance sheet - was the correct decision. However, implementing it has proved to be a lengthy process.
Mercator's management appears unwilling to take any fundamental strategic decision that might generate the required investment levels its core markets need. It continues to back highly unprofitable non-food banners such as the Modiana fashion chain and the M Tehnika non-food online business. With expansion budgets extremely limited, Mercator needs to decide if these banners are essential and worthy of investment.
The retailer needs to learn from the strategies of global players such as Carrefour - identifying core formats and markets and focusing on strengthening its position in these areas.
Unless funded by an outside investor, Mercator may need to divest from some of its markets or sell operations to fund a turnaround of its business.
Milos Ryba, research director emerging markets, Planet Retail.
Planet Retail
For more information contact Planet Retail:
Tel: +44 (0)20 7715 6000
Email: info@planetretail.net