A distinctly egalitarian Moscow café aims to reconnect its visitors with local producers, signaling changing consumer attitudes in the Russian capital.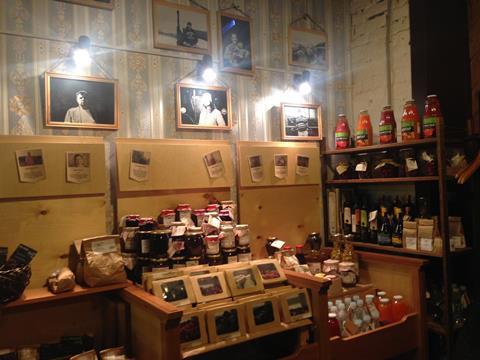 Among the fresh produce in Lavka Lavka the walls are lined with information about the individual producers. The photos of fishermen, farmers, bakers and cooks provide a backstory to each of the items but they also give reassurance about quality and provenance.
About 50 producers supply Lavka Lavka who, in turn, also supply a number of Moscow restaurants.
In many parts of Europe or North America such transparency would be unremarkable, but in Moscow it is still a nascent consumer behaviour. Founder Boris Akimov sees Lavka Lavka's role as equally focused on education. The café hosts lectures, children's events and even farm tours so that their customers are encouraged to explore and discover.
The producers themselves have to meet exacting standards and practices, but Lavka Lavka provides many of the suppliers with a premium market that did not previously exist. A legacy of collective farming has produced a country where farmers are often undervalued and 80% of vegetables are imported, but Akimov has set himself the task of changing wider attitudes. The communal tables in Lavka Lavka are where his staff and a growing audience of like-minded customers can drive that change together.
Consumer insight:
Patterns of consumer behaviour in Russia are changing fast, with an increasingly worldly audience eager to explore and learn.
Brand take-away:
Rich storytelling is made more compelling when underpinned by a shared mission and genuine values.
Brought to you by Fitch. FITCH is a global brand and retail design consultancy Bold Thinking, Seamless Experiences