An Argentinian tea retailer seeks to elevate the simple cuppa and encourage their customers to explore and discover a rich and varied subject.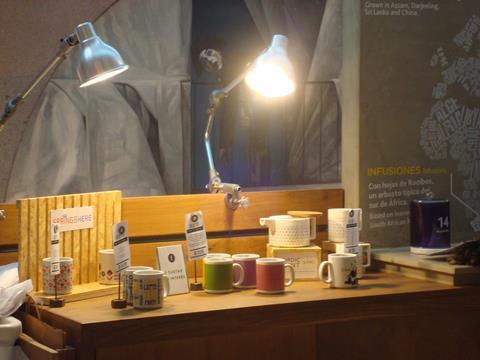 For over a decade many tea brands have looked enviously at the rising popularity of coffee. In markets around the world tea is frequently sold in uninspiring ways that leave shoppers reaching for the same familiar brands rather than trying something new.
The Tea Connection store in the Galeriadel Pacifico in Buenos Aires seeks to change this approach. It gives a direct invitation for passers by to investigate a wide variety of teas and prompts them to trade up with sensory cues, favour notes and tasting opportunities.
The minimal, almost clinical layout focuses attention on the aroma of the teas displayed under coloured glass jars. Each is numbered to create an air of precision and scientific curiosity. The provenance and subtle characteristics of each tea is explained in detail, as are their effects on mood and wellbeing. Important but often overlooked elements, such as seasonality, are highlighted to give greater understanding.
For those keen to develop a dedicated aficionado's appreciation, there are rare tea collections and a full range of accessories, which also serve to draw out the rich heritage of traditional tea-making rituals. In-store there is also expert service to advise and guide the inquisitive customer.
Consumer insight:
Given an invitation to learn more, the shopper can be inspired to take a fresh look at a category they may view as familiar and unsurprising.
Brand take-away:
Tea Connection balances the complexity of the subject with a simple path to knowledge. Brands must guide, not overwhelm.
Brought to you by Fitch. FITCH is a global brand and retail design consultancy Bold Thinking, Seamless Experiences