French grocery giant Carrefour is eyeing the rollout of an 'after-work pick-up point' concept in Belgium after a successful launch.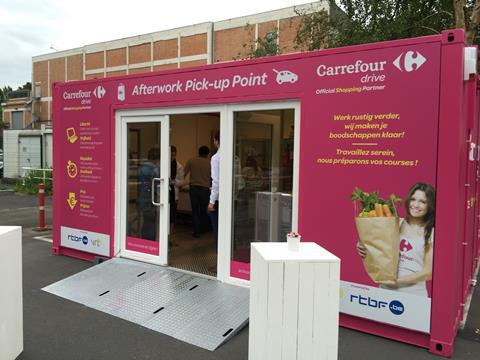 The 'private drive' facility gives workers at RTBF and VRT in Schaerbeek, Belgium, the chance to order online then pick up their shopping at a facility in the companies' shared on-site car park.
Grocers across Europe are developing increasingly inventive ways to deliver goods to customers. In the UK, Asda is trialling a standalone click-and-collect pod, which can exist away from its stores or petrol stations.
Carrefour said the idea, launched last week, came after noticing that some of its stores in Belgium are located in areas that are susceptible to congestion.
The retailer is offering 7,500 lines as part of the concept, including fresh, dried, frozen and bakery goods. Workers can place orders up to 11am and collect their purchases after their working day ends.
"This is the first time that Carrefour is implanted directly within a company, but contacts are underway with other firms," the retailer said.