Strong branding is everything in retail – Retail Week takes a look at who brand consultancy Interbrand says are the top 20 in Europe.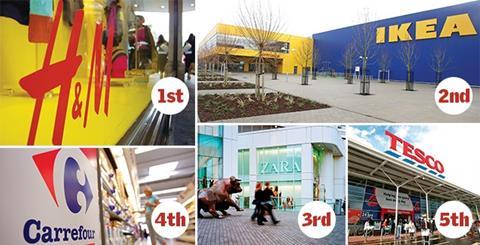 1. H+M
New
$18,168m
2. Ikea
New
$13,818m
3. Zara
New
$10,821m
4. Carrefour
0%
$10,299m
5. Tesco
-16%
$9,042m
6. M&S
-14%
$5,633m
7. Auchan
+7%
$3,697m
8. Boots
+2%
$3,376m
9. Aldi
+1%
$2,940m
10. Sephora
+20%
$2,143m
11. Leroy Merlin
+2%
$2,039m
12. Asda
+7%
$1,791m
13. Lidl
+15%
$1,750m
14. L'Occitane
+5%
$1,668m
15. Edeka
+2%
$1,543m
16. Next
+4%
$1,424m
17. Mango
New
$1,277m
18. Bershka
New
$1,268m
19. El Corte Ingles
New
$1,221m
20. Sainsbury's
+12%
$1,192m
It's almost impossible to do well in retail without a strong brand, and according to brand consultancy Interbrand, these are the strongest in Europe. It says that a strong brand leads to better performance because of a number of factors - its ability to influence customer choice and loyalty; to attract and retain talent; and to lower the cost of financing. The table on the left shows each retailer's ranking and the value of its brand, as well as the amount this has changed from last year. The methodology box below explains how Interbrand calculates a retailer's brand value.
Retailers plough resources into getting their brand just right – here is who's managing to do so.
1) H&M
The Swedish fast fashion giant opened a new store nearly every day in 2013, and its designer collaborations continue to excite shoppers. Its cheap wedding dresses and sustainable clothing lines all boosted buzz, and there are plans to continue expanding its international footprint. H&M has got its brand spot on.
2) Ikea
The Swedes are having a moment - the world's largest furniture retailer now operates in 42 countries and is working hard on customer experience and value. It has invested heavily in ecommerce and mobile recently.
3) Zara
Zara's brand value continues to grow with a global total of 110 new stores opened in 2013. It is expanding distribution hubs and ecommerce to 21 countries including China and Russia, and it has made some sustainable moves in the last year, including promising Greenpeace it would 'detox' its garment production.
4) Carrefour
The French grocer and world's second largest retailer by sales is in the middle of a turnaround. It is working to respond more to local markets with a relevant product offering for each place and upgraded stores. Sales are already responding - overall growth was up 2.5% in 2013.
5) Tesco
Tesco is facing well documented troubles, both in its home market and abroad, as it struggles to differentiate itself beyond price. It is working hard on its digital offer and brand, and while it's not there yet, it's wise to never discount Tesco - Interbrand points out it still accounts for £1 in every £8 spent in UK shops.
6) M&S
Another traditional UK retailer that is struggling in today's changing environment, M&S is working hard on becoming a global multichannel brand. There is still plenty to love about M&S - and this year its revamped website, and Plan A sustainability initiative that helped it escape the horsemeat scandal, have bolstered it.
7) Auchan
French food retailer Auchan had a good year in 2013, with sales increasing 5.8%. The business is expanding globally and is putting innovation at the centre of its business strategy. It has an employee engagement programme called 'Creative Attitude' that selects new ideas to try, and it also asked customers to submit new product ideas.
8) Boots
Boots is another retailer who is chasing some of the core elements of retail success today - international growth through its sales to US giant Walgreens, exemplary customer service, unique products and digital innovation such as the digital No7 Foundation MatchMade Service.
9) Aldi
While its performance in the UK has been flawless, Aldi faces increasing competition elsewhere and its split of the brand in its home German market into Aldi Nord and Aldi Sud remains an issue. But the value grocer continues to be a strong performer, Interbrand says.
10) Sephora
Part of the LVMH powerhouse, French beauty chain Sephora reported an 'exceptional' performance in 2013. It gained market share, increased sales by 14%, and continued to innovate. It has carved a reputation for itself as a digital innovator and has launched a pioneering app Sephora to Go in the US.
11) Leroy Merlin
The French DIY giant wants to "help each homeowner dream up a house and realise it," and it is using its Housing Observatory to help it do so. The Observatory helps it gain insights into its customers, identify new trends, spur innovation and adapt to local markets - it seems to be working, with global revenue growing 5.9% last year.
12) Asda
As with other big UK grocers, Asda has been forced on the defensive, fighting off competition from Aldi and Lidl at one end of the market and Sainsbury's and Waitrose at the other. But Asda is equal to the challenge - prices remain low, and multichannel functionalities such as click and collect growing.
13) Lidl
Aldi's biggest competitor Lidl is steadily pursuing its growth strategy and closing the gap between the two grocers by raising product quality while keeping prices low. It boosted employee's salaries in 2013 which helped improve internal engagement, and introducing online trading is said to be a priority.
14) L'Occitaine
The French cosmetics retailer is in the middle of a strategic global expansion plan, opening stores in the Asia-Pacific region and beyond. In addition, it has opened a 100-strong research and development lab focused on fostering innovation. Its ethical credentials are on the up too, with a commitment to Fair Trade sourcing.
15) Edeka
Edeka is Germany's top supermarket for customer satisfaction, but continues to invest €1.6 billion in a modernisation plan that it hopes will spur German customers to pay for more higher quality products and a better store experience. Tongue-in-cheek advertising, private label products, in-store bakeries and sustainable products all help boost the brand.
16) Next
One of the UK's pioneering multichannel players, Next has held on tight to its loyal band of shoppers. Its safe, reliable appeal has kept it riding high throughout the recession, but competition from fast-fashion peers means it will need to make sure it innovates to future-proof the brand.
17) Mango
Mango is on a crusade to overtake Spanish rival Zara as the world's biggest fast fashion retailer. And it's certainly made a start - it is opening 800 stores in China, has diversified with plus-size, teenage and lingerie brands, and invested in a strong digital experience.
18) Bershka
Zara's younger sister has increased its brand value as it has evolved. It has nearly 1,000 stores in 66 countries, with some of them - such as the Tokyo store - showing off the brand's creativity. It has managed to emotionally connect with teenagers across the globe, and it shows no sign of slowing.
19) El Corte Ingles
El Corte Ingles is Spain's largest department store chain and is struggling to remain competitive. Its brand value has declined by the biggest amount in its history, following financial troubles. But it still has its longstanding merits - a wide variety of brands, localisation, and added value services.
20) Sainsbury's
Its 36 quarters of consecutive growth might have now come to an end in its most recent update, but Sainsbury's is still doing the best of the big four UK supermarkets. Its BrandMatch price comparison tool and 'Live Well for Less' tagline continue to do well for the brand.
Other UK brands in the top 50
Argos: 27
Asos: 29
Waitrose: 32
Morrisons: 36
John Lewis: 39
B&Q: 40
The Body Shop: 43
Debenhams: 45
Carphone Warehouse: 46
Primark: 47
Sports Direct: 49
Methodology:
Interbrand says its brand valuation methodology determines the contribution of the brand to business results.
It comes up with its valuation by analysing the financial performance of a retailer, the role the brand plays in the purchase decision and the competitive strength of the brand.
The role of the brand in the purchase decision is derived from one of three methods: primary research, a review of historical roles of brand for companies in a particular industry, or expert panel assessment.
Brand strength is a measure of the brand's ability to create loyalty. It is based on a measure of 0 to 100, and is based on an evaluation of 10 key factors that Interbrand believes make a strong brand.