Reports have surfaced suggesting Amazon may be planning to open up to 20 standalone grocery outlets in the US by the end of 2018.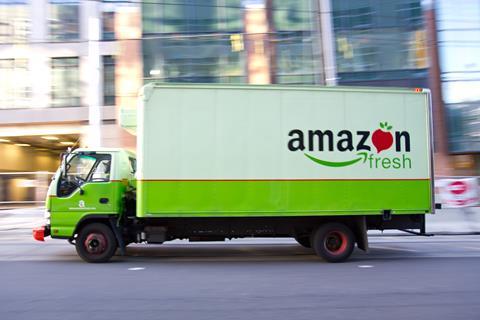 Furthermore, the etailer supposedly sees room for up to 2,000 food stores within a decade.
The story is based on documents seen by the Business Insider – a portal in which Amazon boss Jeff Bezos is an investor – and appear to build on the concepts described as part of 'Project Como'.
It claims that the 2018 trial will involve 10 click-and-collect outlets along the lines of the Ballard project currently under construction in Seattle.
A further 10, it states, would be "traditional stores where cart-pushing shoppers can stroll the aisles while touching, smelling, and inspecting produce and other goods for themselves".
The click-and-collect stores would be around 10,000 sq ft in size, with the bigger stores measuring anything up to 30,000 sq ft.
Should trials prove successful, the long-term plan envisions a run-rate of 200 stores per year.
These, the documents say, would be supported by a new generation of distribution centres which, we can assume, would be very different from the current base of fulfilment centres currently operated by the etailer.
Blueprint or blue sky?
Our thinking is that the documents cited may be more a potential case study than a genuine action plan at present – though we reserve the right for Amazon to surprise us.
But the timing of this story is worth considering, coming only hours before Amazon released its latest quarterly numbers, which revealed soaring sales but lower than expected profits.
Given that investors, as a rule, tend to regard grocery with a degree of caution given the sometimes precarious profit margins involved, it seems curious that a business famous for holding its cards close to its chest would deliberately confide details of such a potentially enormous investment project at this particular moment.
Then again, given that Amazon is undoubtedly minded to have involvement in US – and overseas – grocery to some extent, it is hardly surprising that it might develop a variety of scenarios by which it might ultimately achieve scale in the market.
Numerous companies operate blue-sky departments charged with outlining any number of strategies and scenarios that the business might actualise – and we suspect Amazon has more than most.
Whether the picyure painted in these documents will ever come to pass is something on which, for now, we will reserve judgement. Until we hear Bezos actually say it.
Howard Lake is senior editor at Planet Retail