Beauty, lingerie, flowers and bubbles drove sales at John Lewis Partnership's stores as shoppers spent their cash on loved ones for Valentine's Day.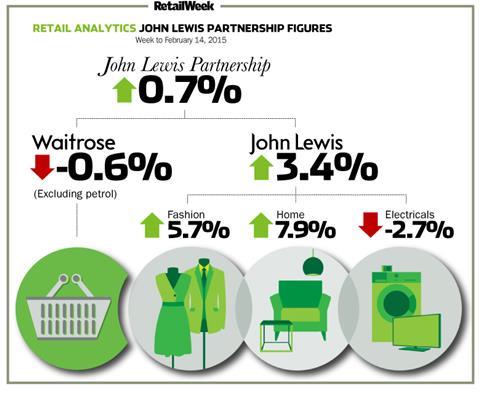 John Lewis department stores recorded a year-on-year increase in sales of 3.4% in the week leading up to Valentine's Day.
Footfall in stores increased and led to a year-on-year sales increase in fashion (6%), women's accessories and beauty (3%), home (8%), stationary (5%) and gift food and seasonal (17%).
Additionally, womenswear had a good week with a 12% rise in sales, which John Lewis put down to the drop in temperature.
Meanwhile, online sales were up 14% compared with last year across all of its departments, with fashion up 28%, nursery increasing 26% and home sales up 15%.
Dino Rocos, operations director, John Lewis, said: "As we near the end of the first trading period we are focusing on ensuring availability is strong, therefore putting us in a good position for the coming season and enabling us to meet customers' expectations during the half term week."
But total sales for Waitrose (excluding petrol), fell last week by -0.6% year on year because of tough comparables against increased promotional activity last year.
The romantic occasion also had an effect on Waitrose grocery shopping, with flowers experiencing the best Valentine's ever, with total sales up 19%, and Valentine's bouquets up 39%. Its bestselling bouquet was the 'upper class Waitrose Foundation dozen roses' bouquet, costing £29.50.
Champagne and sparkling wine was also a big seller in the week leading up to February 14, with Champagne up 319% year on year, and sparkling wine up 271% driven by prosecco sales.
Sales for the grocer were also affected by the half term school holidays, as parents stocked up on 'food to go', with sales up 16%. Sales of ponchos increased 43%, and umbrellas by five times the amount sold last year. Meanwhile, sun cream sales were up 41% as shoppers prepared for holidays abroad.
Meanwhile, Chinese New Year has seen an increase in sales increases of rice vinegar (34%), oyster sauce (26%) and dark soya sauce (21%).