Sales growth at John Lewis slowed as shoppers opted to spend their bank holiday outside in the sunshine last week.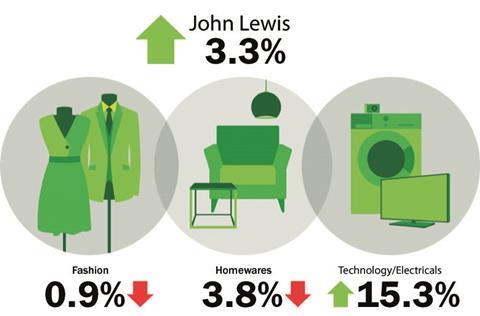 John Lewis sales rose 3.3% in the week to August 31, a slowdown from 6.6% the prior week.
John Lewis head of retail implementation and format development Tim Harrison said: "The weather was generally hot and sunny and with the bank holiday on Monday, customers wanted to make the most of their last opportunity of the summer outside. However, the start of the academic year drives an urgency to shop visits in certain categories."
Sales of homewares fell 3.8% against tough promotional comparatives last year while fashion sales fell 0.9% despite 9.8% growth in schoolwear products.
The department store notched up 19.9% year-on-year growth in its online sales with its click-and-collect business performing strongly.
Electricals sales were also strong, up 15.3%, driven by a deal on iPads and the launch of the John Lewis digital radio.
The retailer's Swindon, Milton Keynes and Scottish stores performed strongly while Croydon, Newcastle and Brent Cross were the worst performing stores.
Harrison added: "The holidays are over, the schools are all back and we could now do with the next turn of the changing seasons. The new products in our shops are getting a great reception from customers."
Sister grocer Waitrose reported a strong week with sales up 9.1% driven by "a sunny end to the summer holidays and by shoppers stocking up for a return to school and university".
Waitrose marketing director Rupert Thomas said: "The warm weather prompted sales of picnic and alfresco-style food, as people made the most of the sun. Our deli range saw a 16% increase in sales with appetisers, including olives and antipasti, 50% up on last year. Customers also bought 28% more ice cream than in the same week last year."
He added: "Our Welcome Break shops showed the increase in people travelling across the country to make the most of the late summer sun – sales at our 19 shops increased by 27% for the week compared with last year."