Home and furniture groups report steady performance of Sales despite the impact of fewer shopping days because of the way the bank holidays fell during the Christmas period.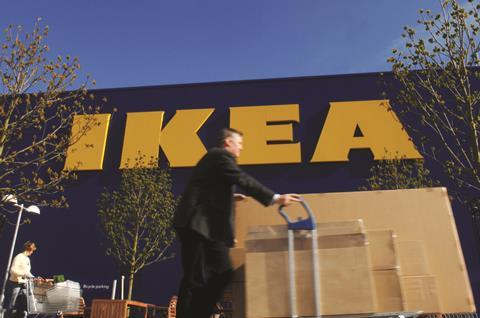 Big-ticket retailers have reported a robust performance in the critical Boxing Day and January Sales period despite being hit by the timing of Christmas.
In this year's post-Boxing Day Sale period there were two fewer shopping days than in 2011, because of the way the bank holidays fell.
But retailers including Ikea, John Lewis and Dreams have still experienced strong starts to their Sales.
Ikea UK and Ireland total sales climbed 3% in the four weeks to January 5. Acting country manager Carole Reddish said: "If we'd had more [shopping days] we'd have been a little bit stronger. Sofa sales, kitchens, bedroom - all these areas are in growth for us."
Reddish said Ikea's improved service, low prices and revamped stores had helped lift sales. She added: "It's still tough for the consumer but we're cautiously optimistic [for 2013]."
Despite John Lewis' rocky start to its homewares Sale - with home revenue down 7.4% in the week to December 29 because of the timing of Christmas - turnover rebounded in the week to January 5, climbing 11.6%.
John Lewis buying director for home Paula Nickolds said the overall Sale is performing in line with expectations so far, but cautioned: "Big-ticket is the more challenging category for us. Customers are demanding, and need tempting with great product. It certainly sorts the men from the boys."
Beds giant Dreams said a £3m investment in its multichannel platform and store estate last year, as well as a focus on improving ranges and lowering prices, had propelled a like-for-like increase of 7.2% in the four weeks to January 7.
Nick Worthington, chief executive of beds retailer Dreams, which was put up for sale in December, said gross margins were ahead of expectations and that 2012 was its strongest ever December and New Year sales period.
However, others were feeling the loss of key shopping days compared with 2011. The boss of one big-ticket retailer told Retail Week conditions "tightened" in December and it had been hit because of the timing of bank holidays.
"We've done very well since then but we won't get back those two days," he said. "Paying for Christmas is a greater priority than paying for January Sales [for consumers]."
ScS chief executive David Knight said the retailer had performed in line with expectations throughout the Sale period so far and he felt "optimistic" for 2013. "We've still got a flat housing market but if people aren't selling their homes they'll do improvements," he said.