Retailers are banking on a last-minute shopper rush for seasonal success after Black Friday disrupted shopping patterns in the golden quarter.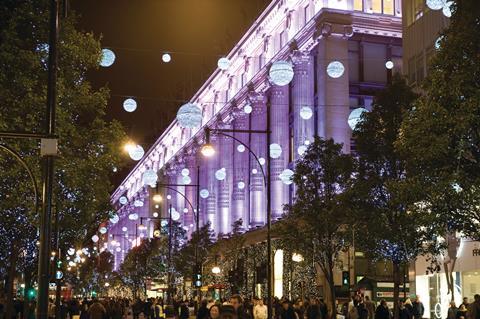 However, retailers are optimistic of a good Christmas and are preparing for trade to peak on December 23 after sales unusually slowed following an unprecedented peak on Black Friday at the end of November, when £810m was spent.
John Lewis retail director Andrew Murphy said: "We're really confident about the last five days. Monday and Tuesday will be manic. We'll be ahead of last year by a good margin."
HMV chairman Paul McGowan said: "We are looking at another very successful Christmas period."
The Christmas outlook for the big four grocers is uncertain amid market turmoil as Aldi and Lidl are expected to continue their strong run over the period.
"We are feeling pretty good with things right now and are fairly bullish"

James Daunt, Waterstones
Waitrose, which has also been performing strongly, expects to do well and traditionally benefits from shoppers trading up. Managing director Mark Price expects to be "well up" over Christmas.
He expects Waitrose to take "well over £50m on the 23rd", which is traditionally the busiest day for supermarkets.
Toy specialist The Entertainer's managing director Gary Grant said: "Monday was a very strong day, so now I think people are fully into Christmas mode. We will have a very strong Christmas."
Waterstones managing director James Daunt said: "We are feeling pretty good with things right now and are fairly bullish. The final five days are disproportionately important."
Impact of Black Friday
Jigsaw chief executive Peter Ruis said: "We've stayed full price and it's working – we're up 16% last week. I think it's going to be a good Christmas – trade has picked up of late and people are still going to work next week and so will be shopping.
"I still think the last two weeks before Christmas can be viewed as old-fashioned shopping with people coming to the high street."
"For the market as a whole, Black Friday is not incremental and it is margin dilutive"

Andrew Murphy, John Lewis
Gareth Jones, deputy chief executive of Very owner Shop Direct, said the etailer was also expecting a flood of orders in the next week. "Christmas isn't wrapped up just yet. We're expecting a last minute rush like no other year, helped by both the extra fulfilment day before Christmas and the next day delivery we're offering up to 10pm on December 23rd."
However, retailers have observed that Black Friday, as well as Cyber Monday, has altered trading patterns this Christmas and some doubt whether the spectaculars generated extra sales.
Such concerns, as well as negative headlines about brawls in shops and delayed online orders, have prompted some to review the value of the promotion.
Murphy said: "There is no doubt Black Friday has changed the shape of Christmas trade. We had a couple of flatter weeks after Black Friday." John Lewis week-on-week sales were down 5.8% last week versus the previous week, when Black Friday fell.
While Murphy said he welcomed Black Friday because John Lewis won share – the event helped the retailer clock up its biggest ever trading week – and its fulfilment arm stood up to the challenge, he questioned its contribution in general.
"For the market as a whole, Black Friday is not incremental and it is margin dilutive," he said.
He warned of the dangers of kick-starting the festive season with such a big promotional event. "It should be a worry for retailers," he said. "Go and walk around American malls and high streets and see what happens when you can't control price."
Bringing forward sales
Dixons Carphone chief executive Sebastian James said: "There were definitely some [sales] pulled forward because once you own a television you don't need another one."
But he added: "Black Friday was our biggest day ever and it seems to be the new Boxing Day. If you plan carefully you are not impacting your margin too much. Black Friday could be around forever. We are planning the next one already. There is something quite refreshing and nice having a good chunk of Christmas in the bag."
Jones said: "We're on course for a good Christmas at Shop Direct and that's partly due to our phenomenal Black Friday and Cyber Week.
"Black Friday is now our biggest trading day and is set to be a staple of the retail calendar for years to come. We benefited from our forward planning, which made sure we had amazing deals for our customers while protecting margins."
McGowan maintained: "Black Friday has for sure created a black hole with early discounts sucking up the early Christmas demand. We did have a very successful Black Friday weekend but sales were a little soft in the immediate aftermath."
"Black Friday has caused us more than our fair share of headaches"

Gary Grant, The Entertainer
Grant said: "The season has been very good but very erratic and has changed the sales curve pattern. I think Black Friday brought forward a lot of planned purchases – it concertinaed it into 24 hours.
"That blip has caused the whole infrastructure to be put under extreme pressure and it has taken about 10 days to unravel. Black Friday has caused us more than our fair share of headaches."
"It's a very bad thing to discount before Christmas"

Philip Day, Edinburgh Woollen Mill
Hobbycraft customer development director Katherine Paterson said the arts and crafts retailer is experiencing strong sales across its festive lines, but said: "It definitely feels like footfall has quietened off, it has been a bit quieter this week."
Many fashion retailers have continued discounting after Black Friday, in part driven by the earlier effect on sales of the warm autumn.
Edinburgh Woollen Mill chief executive Philip Day said: "I think there's a lot of panic in the market. The problem is a lot of retailers are making a rod for their own back by discounting. It's a very bad thing to discount before Christmas."
He said he had resisted the temptation to discount. "Our current trading performance is very good and we're feeling positive about Christmas," he said.
How Christmas plays out will become clear over the next few weeks as retailers issue trading statements. Next, which famously refuses to discount outside the main Sale periods, will be among the first to update on December 30.