Retail news round-up on January 14, 2015: Ted Baker chief sells shares; Tesco Grocery app for Google Glass; Waterstones could acquire Blinkbox; and more.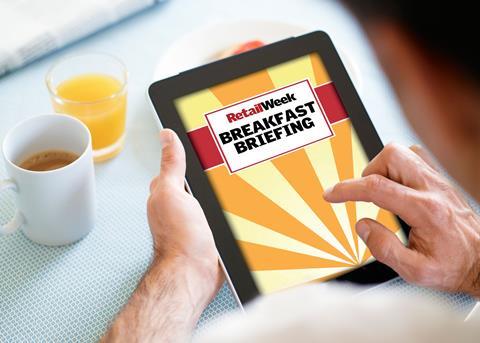 Ted Baker chief pockets £4.6m with share sale
Ray Kelvin, founding chief executive at high street fashion chain Ted Baker, has sold shares worth £4.65m that was awarded under the retailer's performance pay plan, The Times reported.
Kelvin used a placing directly to investors to sell 202,382 shares. The deal was carried out by Liberum Capital brokers and the shares were placed at £23 apiece.
He could have sold the shares, awarded as nil-cost options under a three-year incentive scheme at Ted Baker, at any point since October 2013, when the award vested.
Even after the disposal, however, the retailing boss remains by far the company's biggest shareholder. His holding of 35.38% of the group was worth close to £370m.
New Tesco Grocery app for Google Glass
Tesco has become the first major UK retailer to launch a new app for Google Glass, embracing wearable technology. The app, known as Tesco Grocery, allows shoppers to browse goods, view nutritional information and add items to their shopping basket hands-free, The Telegraph reported.
Developed by Tesco Labs, Tesco Grocery works alongside customers' Tesco.com grocery accounts, automatically adding products to the customer's online basket for them.
Glass wearers can add items to their basket either by doing a voice search for a product and selecting from a list of available items using the button on the side of the headset, or by scanning a product's barcode using the in-built camera.
Meanwhile, the supermarket giant is facing a strike threat by staff in the Czech Republic after announcing store closures that could result in more than 100 job losses.
A union representing workers in the region warned it could call a strike after the retailer confirmed that a second store in the region was set to close.
The Czech union official said they had scant details on Tesco's plans and it was concerned that further changes could be on the cards.
Waterstones could acquire Blinkbox Books from Tesco
UK's largest bricks-and-mortar bookseller Waterstones is in exclusive talks to snap up Tesco's Blinkbox Books in a move to ramp up its efforts to challenge Amazon in the fast-growing market for e-books, The Financial Times reported.
The chain of 290 bookstores said that its current platform for selling e-books was 'antiquated' and that it needed greater control over its e-book sales.
"Blinkbox is a modern platform that delivers books through an app, so that you can read them on any device that you wish to, excluding of course a Kindle, which is a closed system," said chief executive James Daunt.
UK inflation dips to lowest since May 2000
UK inflation rate fell to its lowest level in over 14 years last month due to a slide in global oil prices.
The annual rate of consumer price inflation halved to 0.5% in December, according to the official figures from Office for National Statistics.
Falling petrol prices and lower electricity and gas bills compared with a year ago were the biggest factors pushing down inflation in December.
Food prices, which have been pushed down by a supermarket price war and lower commodity prices, tumbled 1.9% – their biggest fall since June 2002.