Black Friday propelled the biggest increase in retail sales in more than a decade as sales rose in November 6.4% year on year.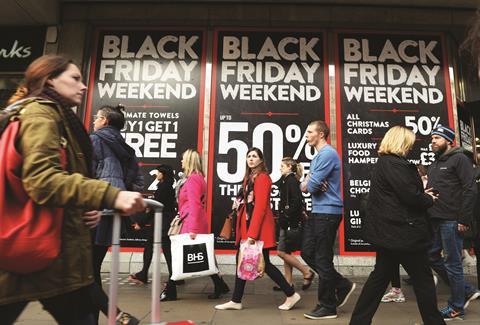 The growth was the highest year-on-year increase since a 6.9% rise in retail sales in May 2004, according to Office for National Statistics (ONS).
November's sales represents the 20th consecutive month of growth.
Deloitte's UK head of retail Ian Geddes said: "Looking beyond the headline figures, we need to take into account that for the last two years Black Friday has fallen in the December trading period.
"However, this year most of the boost provided by the biggest ever Black Friday has been felt in November, and this is reflected in month-on-month volume growth and strong year-on-year increase online.
"The extent to which sales have been promotionally driven is highlighted by the steepest decline in store prices for 12 years."
Retail sales in November increased by 1.6% compared with the preceding month and there was growth in all main store types for the first time since December 2013.
Meanwhile, average store prices fell by 2% year on year with petrol and food prices driving the decline.
The amount spent online accounted for 11.5% of all retail spending excluding fuel, compared with 10.7% the year before.