Mike Cavers, executive creative director of DST Global Insights Group looks at the usability John Lewis and Argos' app offers.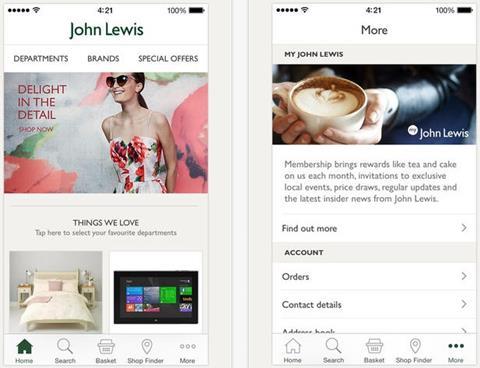 John Lewis
This app demonstrates John Lewis's genuine understanding of its customers and their needs.
Fully integrated with the in-store experience, the app allows users to purchase products, scan items in-store with their phone to access additional information, ratings and reviews; and the brand's famous tagline of 'never knowingly undersold' is reinforced by allowing users to price match.
This is so much more than just a simple ecommerce platform. John Lewis has succeeded in developing a digital customer experience that has been built and designed with the needs of their in-store customers first, linking to a wider John Lewis experience.
Argos
In my opinion, the Argos app is a bit of an oddity, especially if it has been designed to supersede the catalogue.
The Argos catalogue, synonymous with the store, is designed and functions with the simplicity of purchase in mind. This has not been replicated on the app and customers have reported problems with its usability.
All the functionality you would expect is there, but the online catalogue's interface isn't extensive enough and doesn't offer what the customer needs. Simply put, if the app isn't working like the catalogue then Argos could risk losing loyal customers.