Amazon expects to attract record numbers of shoppers to its site on Black Friday this year.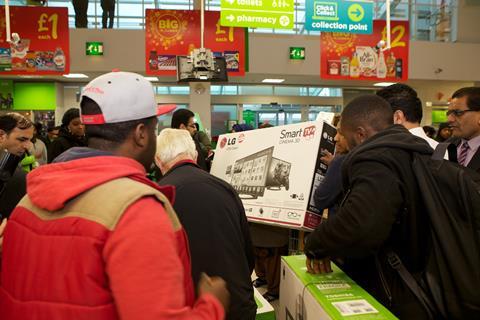 Meanwhile Sainsbury's is set to enter the Black Friday fray for the first time with a series of deals.
Black Friday is a promotions phenomenon that originated in the US and traditionally falls the day after Thanksgiving. Retailers use the event to launch huge promotions to kick off the festive shopping season.
Amazon launched it in the UK in 2010, and last year it took off as other retailers including Asda, John Lewis and Shop Direct launched deals. Those retailers are all planning deals again for the event this year, which is scheduled for November 28.
Christopher North, managing director of Amazon.co.uk, told The Telegraph: "Black Friday took an incredible leap forward in 2013 with so many more customers taking advantage of the great deals on that day, resulting in sales of over four million items for the very first time in our history.
"This year, we are offering more deals and savings than ever before and we are expecting record numbers to benefit from Black Friday Deals Week."
Amazon is to offer more than 3,000 deals during the week running up to Black Friday, 10 times the amount it offered in 2010. While retailers will not yet reveal the nature of the promotions they are planning, Amazon confirmed it will start offering deals on Monday November 24. It will offer new flash promotions every 10 minutes.
Sainsbury's will offer deals, predominantly across electricals, on Black Friday and the following weekend in 481 stores. It will also launch an ad campaign to promote the deals.
Sainsbury's non-food director James Brown said: "This is the first time we have done it. We can't tell you exactly what we will be putting into it, we want to keep that up our sleeves.
"But we have seen what they do in the States. As part of the lessons learnt from the last autumn and winter season, we talked about how our customers are increasingly aware of the Black Friday event."
Asda sold a month's worth of TVs in 45 minutes last year
Asda was the first major retailer to follow Amazon in offering Black Friday deals. Last year shoppers rushed its stores as it sold a month's worth of TVs in 45 minutes and 60% of its entire Black Friday stock was bought in two hours.
Asda said: "Customers told us they loved the amazing deals on offer. We will see even bigger and better deals [this year], so watch this space for further information on the great bargains on offer."
Retail Week revealed last week that Shop Direct is investing almost £1m to promote a week of Black Friday events this year.
Last month John Lewis boss Andy Street said: "Black Friday was huge and I'm convinced it will be even bigger this year."
John Lewis online director Mark Lewis said Black Friday "moved the season earlier" for the department store group last year. He said it was John Lewis' biggest ever day online, and twice as big as the previous record.
He said between 7-8am on Black Friday last year traffic was "14 times more than anything we'd seen before".