West Elm will open a shop-in-shop in John Lewis's newly refurbished home department at its flagship Oxford Street store.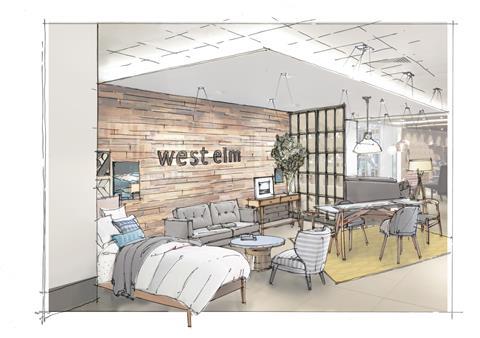 The US-based home furnishings retailer, which is part of the Williams-Sonoma group, has struck the deal with John Lewis as it seeks to expand its presence in the UK.
West Elm opened a store on Tottenham Court Road in December 2013 and since launch has been seeking locations for further standalone stores .
The deal it has struck with John Lewis will involve it opening further shop-in-shops within the department store across the country.
Prior to the opening of the Oxford Street shop-in-shop on September 3, West Elm will begin selling goods on a dedicated page on the John Lewis website.
John Lewis has partnered with West Elm to coincide with the relaunch of its home department at its flagship store, which cost £14m to refurbish.
Its deal with West Elm is a wholesale agreement and will involve John Lewis staff being periodically trained to sell West Elm products by West Elm staff.
The West Elm and John Lewis tie-up represents the first time West Elm products have been available outside of the brand's own stores and websites.
West Elm president Jim Brett said: "This is the first time we've done anything like this, and it's an incredible opportunity for West Elm to work in tandem with one of the UK's largest retailers to quickly reach new customers and grow our business."
West Elm's sister retailer Pottery Barn is still seeking to launch a store in the UK, but has not officially begun the search for a location.
The West Elm shop-in-shop will be located on the third floor of the Oxford Street store and will include West Elm's hero products from its living room, dining room and bedroom ranges.