Topps Tiles now makes more than half of its turnover from trade customers as the British public increasingly turns its back on DIY.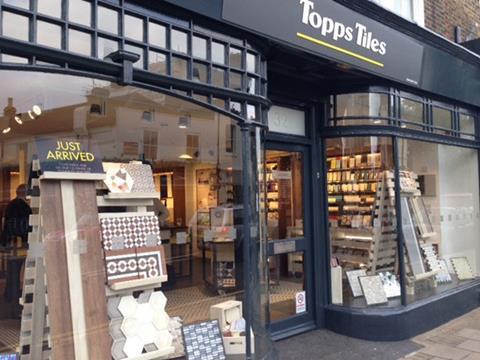 Growing 'do it for me' trend boosts trade business
Tiling retailer weighs up move into commercial sector
Topps Tiles to open six new boutiques in second half
Topps Tiles chief executive Matthew Williams said the retailer has taken market share from rivals with its focus on trade, and has benefited from a structural shift in the industry towards a "do it for me" trend.
He added the tiling specialist is doing all it can to "supercharge" its focus on trade as more than half of its business now comes from trade customers.
During its year ending March 28 around 48% to 49% of its business was from trade, but that has edged up to more than half of turnover during current trading.
Topps Tiles is installing a new CRM system in order to manage its expanding trade business.
The retailer is also weighing up a move into the commercial sector, which serves contractors and industrial sites.
Williams revealed the company did not experience as much disruption in the build-up to the election as feared and added the property market appears to be reading the Conservative majority government "as a positive result".
The rise in consumer confidence, which is likely to be boosted by the UK entering into a period of deflation this morning, is expected to provide the biggest boost to Topps Tiles rather than an improving property market.
At present only 15% of the business Topps Tiles does is linked to people moving houses, while the majority of its trade comes from people doing home improvements.
Topps Tiles hopes to open six new boutique stores in the second half in locations including Wilmslow, Dulwich, Muswell Hill, Chelsea and Fulham.