Topps Tiles has continued its strong UK growth, with half-year pre-tax profits up 13.8% to £9.1m after upgrading and rebranding stores.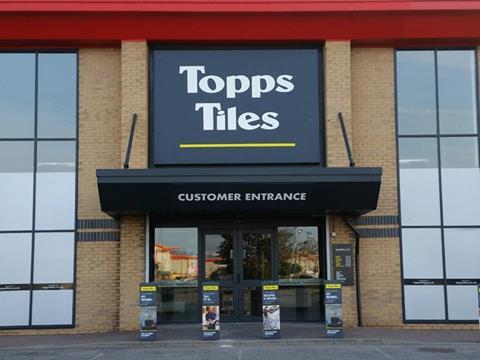 Topps Tiles half-year profits up 13.8%
Total sales rose 6.4%
Second-half trading off to positive start
The retailer, which has 343 stores, revealed this morning that group sales climbed 6.4% to £104m in the six months to the end of March. Like-for-like revenues rose 5.3% in the period.
The retailer reduced its net debt by £5.3m year-on-year to £31m.
Chief executive Matthew Williams said Topps had an encouraging first half. "Initiatives to upgrade and rebrand our stores, making the shopping experience even more inspirational, have been well-received by customers," he said.
The retailer recently launched a new online "tile visualiser" and tablets in stores to improve the customer experience. According to Topps, 99% of customers come into store at some stage of their shopping journey.
It has also extended its Topps Tiles Boutique store trial to two stores in Knutsford and St John's Wood. It plans to have 12 to 13 Boutique stores by the end of the financial year.
Williams added: "Our well-established trade offer is also ensuring that we keep pace with the accelerating "do it for me" trend, as more customers than ever use a professional fitter for their tiling project."
He said the retailer had a positive start to its second half, with like-for-like sales up 5.1% in the first six weeks of trading. "Looking ahead, we are well-positioned to grow our market share further as we continue to extend the appeal of the Topps brand."