Barring the huge boost for the sector during the pandemic, DIY giant Kingfisher has been reliant on its Screwfix trade-counter format to drive sales and profit growth in recent years. Meanwhile, its larger businesses, including B&Q in the UK and Brico Dépôt and Castorama in France, have struggled in a difficult trading environment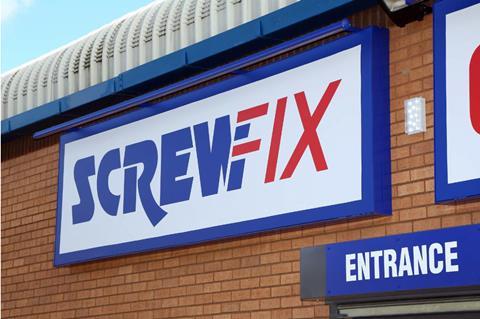 Despite being a significantly smaller business, Screwfix is the jewel in the Kingfisher crown.
Not only does it deliver significantly higher margins than its larger stablemates, but it has also become the digital benchmark for the group's other businesses, having developed "world-class" fulfilment and mobile propositions. It has also become Kingfisher's latest export.
Screwfix has reported a series of very solid trading results in recent years. While like-for-like sales fell back against pandemic-inflated comparatives in 2022/23, three-year like-for-like sales trends were up 14.2%, with the trend accelerating to 15.3% in the final quarter.
In 2021/22 – the latest year for which comparable figures are available – Screwfix generated 17% of total Kingfisher sales and 22% of operating profit. Kingfisher's annual report only provides overall profit figures for the UK and Ireland, so profit figures for Screwfix only become available through the accounts it files at Companies House towards the end of the calendar year.
Screwfix achieved operating margins of 11.1% in 2021/22 against B&Q's 6.7%, with the group average coming in at 8.7%.
Retail Week Prospect looks at five ways Kingfisher is maximising growth from its innovative Screwfix business.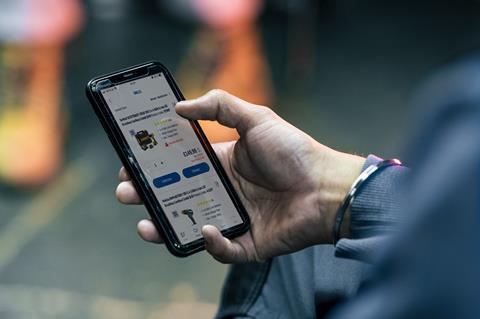 1. Seamless omnichannel model
Screwfix's seamless omnichannel model has become the benchmark for Kingfisher's other brands.
The trade-counter format is a good example of a specialist retailer that has wrapped technology around its offer, using it in unique ways to strengthen its proposition.
Screwfix has some fairly advanced multichannel services, partly because of how the business grew. Having started as a catalogue operation, it naturally evolved into an online-based business and the need for stores came from customer demand.
Through its app and website, customers can check availability in any store, order and pay online, and collect in store in as little as one minute – that speed of collection is a key driver of growth.
More than 65% of Screwfix's digital sales come through app and mobile, while more than 80% are picked up through click and collect.
Reflecting the evolution of the business, Screwfix retired its catalogue in September 2022, replacing it with in-store digital screens featuring the entire 50,000-line offer and detailing what is in stock with prices.
Kingfisher's technology strategy is about making the rest of its businesses digitally as good as Screwfix, with the trade-counter format becoming a testbed for new initiatives.
When Kingfisher developed its first in-house recommendation engine last year, employing machine learning and AI technology to provide a more personalised shopping experience, this was initially rolled out across Screwfix before being introduced to B&Q. It will be rolled out to other markets this year.
A new marketing automation platform, powering greater personalisation in customer communications via email, app notifications and in-app messaging, has also been launched.
2. Laser-sharp focus on trade
Screwfix has been praised for a model that has its core customer front of mind: smaller trade professionals on the go.
Its apps have proved hugely popular and its exceptionally rapid click-and-collect proposition is second to none. It also has a lauded live stock-check system.
Through Screwfix, Kingfisher has built a serious foothold in the trade segment of the market, traditionally dominated by key competitor Wickes as well as builders' merchants such as Jewson and Travis Perkins.
On track to have more than 1,000 UK Screwfix stores within the next couple of years, this will mean Kingfisher taking an ever-increasing share of the trade market, particularly since B&Q has also moved into this market through in-store TradePoint counters.
3. Rapid store opening programme
While Screwfix has only had a physical presence since 2005, it has quickly expanded into an 870+ UK network as the most efficient way to get products to customers on the same day.
About 98% of the UK population now lives within 30 minutes of a Screwfix store.
Screwfix is targeting 60 new stores across the UK and Ireland in 2023/24 (plus up to 25 in France), taking it within a hair's breadth of its 1,000+ domestic store target.
This recently raised target follows the identification of further scope for stores in inner cities and rural catchment areas.
The small size of its stores and trade focus "makes finding sites and obtaining planning permission easier", while Screwfix units also require "significantly less capital investment" than the group's big-box outlets. Screwfix units generally range from 4,000 to 7,000 sq ft, split by 10% for counter space and 90% for warehouse space.
Expansion will be given a boost as Screwfix enters the final phase of testing its new 'ultra-compact' XSR format. These units are around 2,000 to 3,000 sq ft overall and provide "a considered offer of 6,000 products", taking the core Screwfix range into spaces unable to cater for the full traditional trade offer.
Eleven XSR format stores were up and running in early 2023, with "promising results, especially in small market towns", signalling that the 1,000-store target is likely to grow even more.
4. Omnichannel expansion in France
While it pulled out of physical stores in Germany in 2019, overseas expansion remains part of Screwfix's longer-term plans.
Management is convinced of the brand's potential to be exported overseas because of its low-cost business model and advanced omnichannel operation. But, going forward, it will focus on markets where Kingfisher has "existing scale, infrastructure and in-depth market knowledge".
Screwfix has a long-established omnichannel presence in the Republic of Ireland, attracted by its similarities to the UK and a successful online presence, but is now looking at other core Kingfisher markets.
France is the first to be targeted but the business has also been casting its eye over Poland, where Kingfisher has a strong presence through Castorama. Iberia has also been mooted by management.
Screwfix is now establishing a multichannel presence in France, with stores opening from November 2022, following a soft online launch the year before.
Five French stores had been brought on by the end of 2022/23, which management said was the beginning of a "meaningful step up" in store openings for the country.
Up to 25 more stores are being targeted for 2023/24, but the retailer told Retail Week that it sees potential for more than 600 stores in France over the longer term, assuming the success of the format is confirmed.
Screwfix has also opened its first French distribution centre in Picardy to support the growing business.
The accelerated multichannel expansion positions Screwfix to start taking share from the large trade segment in France, which has an estimated total market size of more than £25bn, according to Kingfisher.
5. Investing in fulfilment
Rapid fulfilment is at the heart of the Screwfix proposition.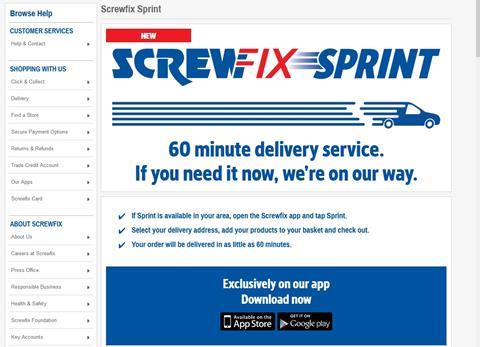 Building on its "world-class" click-and-collect operation, Screwfix has also increased its focus on next-day and same-day deliveries.
Screwfix Sprint, which was launched in August 2021 in partnership with courier service Gophr, offers delivery direct to home or on site within an hour.
Screwfix told Retail Week the average delivery time is 47 minutes, while the fastest is just eight minutes, with the Sprint service rapidly becoming embedded into the way some customers shop with the retailer.
Sprint is now available from more than 320 stores, covering 45% of UK postcodes. Underlining the success of the initiative, the average number of products in a Sprint order is approximately 50% higher than a click-and-collect order.
Given the rapid expansion of the store network, running out of warehouse capacity is a real concern for Screwfix. It opened its sixth distribution centre, in Cheshire, in early 2022 to support ongoing growth.
The new 370,000 sq ft site, operated by logistics partner Wincanton, services stores in the north and west of the UK as well as Ireland. It complements five other distribution facilities across two large sites in Staffordshire.
Screwfix supply chain and logistics director Dan Monaghan said: "The new site will ensure we have the logistics infrastructure to support our store expansion plan, click-and-collect service and Screwfix Sprint, our latest hyper-convenience proposition.
"With 98% of the UK population within a 30-minute drive of a Screwfix store, the latest site will ensure we can continue to provide our customers with the convenience and certainty they need."
The French business has also had its own distribution centre since the end of 2022.
As Screwfix hurtles towards its target of 1,000+ domestic stores, it has started to look further afield for growth, which could prove a useful adjunct to Kingfisher's more retail-focused operations in its core international markets.
The retailer says there are further growth opportunities in the UK and Ireland as well, though, and it has seen "strong results" in recent initiatives to extend its offer, both through broadening ranges in existing categories as well as bringing in new adjacent ones.
Want to find out more about Screwfix and our forecasts for growth?
A subscription to Retail Week Prospect gives you all the retail intelligence you need in one place about hundreds of retailers, including in-depth analysis of strategy, financials and company outlook.
If you'd like to discover how Retail Week Prospect can help you, please request a demo to find out more.