Brighthouse director Hamish Paton clutches the Rugby World Cup, Bathstore makes a splash and Waitrose is the butt of Michael McIntyre's jokes.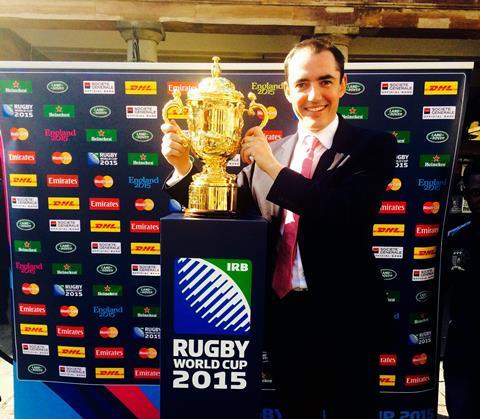 One lucky Scot gets hands on the Rugby World Cup
It's likely that Hamish Paton, commercial managing director at rent to buy retailer Brighthouse, will be the only Scot to get his mits on the Rugby World Cup trophy this year. Scotland play the mighty Australia on Sunday in the quarter finals of the tournament, and the odds of the Caledonians progressing to the last four are less than favourable to say the least. Paton, who is half Scottish, lifted the cup on a jaunt through Covent Garden, where the trophy was on display. If the worst happens on Sunday, perhaps he could rent out the famous Webb Ellis Cup to the Scottish rugby team.
Bathstore makes a splash with Saracens sponsorship
Bathstore is looking to tap into a new consumer group as it targets athletes and sports fans with its first ever sponsorship deal. The bathroom specialist has made a splash by tying up with Aviva Premiership winners Saracens for two years, starting from the 2015/16 season. The partnership was revealed at the launch of Bubbles, the first champagne bath bar, where Saracens stars Henry Taylor, Juan Figallo and Scott Spurling gave the tubs a try. Although England won't be popping any corks after their early exit from the Rugby World Cup, Bathstore could have reason to celebrate if the sponsorship has a knock on effect on conversion rates.
Price is not right for Michael McIntyre at Waitrose
It has been one of the few winners in a tumultuous grocery market over the past few years, but Waitrose recently found itself the butt of joke by comedian Michael McIntyre. During his stand-up show at The O2 Arena in London, the much-loved comic took a playful swipe at the upmarket grocer's prices, joking that its slogan should be: "Come in and we'll sell you the same stuff as everyone else, but for 10 times the price." The self-confessed middle-class McIntyre didn't milk the laughter for too long, admitting his wife is a loyal Waitrose shopper. He knows where his bread's buttered.