DFS boss Ian Filby discusses the reasons behind a 53% surge in first-quarter profits, the company's international expansion and how the General Election will impact sales.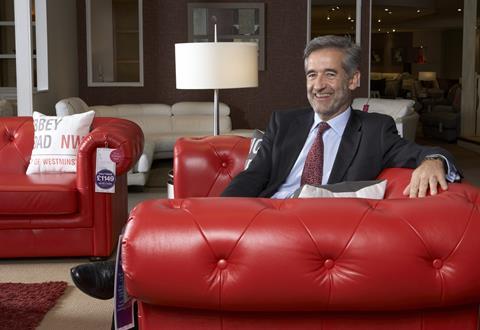 What was the reason for the 53% rise in profits during the first quarter?
Our cost model is one that once you get good sales momentum then clearly you get that sales dropping into the bottom line because you have covered your fixed costs. The sales increase is an accumulative effect of consistently following a strategy.
Also for the first time in six years consumer confidence, credit availability and house moving are all pointing in the right direction. It is nice to have a gentle tail wind rather than a head wind.
Are you confident ahead of the Boxing Day sales?
We go in feeling positive about our customer offer, whether that will turn into good performance we will let the customer decide. You have to be careful about not getting too hung up on short-term surges. Weather, political events and all sorts of other things can knock the phasing. This is a sector that once it gets into growth; it grows steadily across the years.
Do you think the General Election could hit sales of big-ticket items?
I wasn't looking after the company at the last general election, but I have spoken to colleagues who have been through previous ones and they don't think there is any strong correlation. It might cause some pulsing in the short term but in the end it is the more fundamental economic drivers that will determine if 2015 will be a good year for the sector.
I don't speculate about competition, this is a sector where people come and go fairly frequently. What I'm very aware of is that over many years DFS has had new people coming and going fairly frequently and the company has continued its inexorable growth of sales and market share independent of who has come in and out of the market.
How is the DFS international expansion progressing?
We launched into the Republic of Ireland two and half years ago and have now opened our third store. We have already had a little bit of experience of trading in a different currency with different tastes and we made some crucial learnings and have taken those to our first store in Holland.
We have been encouraged by early results but the big watch out is that this is a low selling part of the year and until we start testing the model in periods of higher sales intensity we will not really have a clear view of how well the Dutch consumer has taken to the proposition.
Are there any further stores planned for Holland?
We are not in any rush; I'm a great believer of getting the model right before you start worrying about expansion. We have taken a one-store focus in and when we are satisfied we will choose whether to expand further. It is a country of 16 to 17m people, if we can get the proposition working in the Netherlands it opens up an exciting future growth market for the next few years.