As inflation rises, wage growth stagnates and uncertainty abounds in the wake of the Brexit vote, consumer confidence cannot be taken for granted.
Uncertainty is particularly bad news for those operating in the big-ticket sector − if shoppers tighten the purse strings, prospective home improvements may be put on hold and extravagant splurges saved for a later date.
Indeed, during the financial crisis almost a decade ago, traditional big-box furniture and home retailers were among the worst-affected.
Arguably these hard-learned lessons in resilience mean that big-ticket retailers are better positioned now to navigate turbulent conditions, and updates in the coming week from DFS, ScS and Topps Tiles will certainly shed some light on how these firms are currently faring.
"The full-year update from Topps Tiles will arguably prove the most elucidating, as the specialist's high average basket value makes it particularly vulnerable to shifts in the macro-economic environment"
One thing is clear, however. While the slumped pound drives up sourcing costs and eats into margins, no retailer in the furniture and home improvement markets is sitting comfortably.
Not so cosy at DFS

Even DFS, which has enjoyed steady and consistent growth since its IPO in 2015, has seen the wheels come off in recent months.
The sofa stalwart cautioned in a post-close update last month that full-year profitability would come in at the low end of its guided ranges – around the £82m mark – following a 4% drop in revenue during its second half.
This came shortly after the retailer issued a profit warning, which DFS boss Ian Filby attributed to a cocktail of factors conspiring to knock trade.
The sofa boss said the issue was "industry-wide", sparked by an "uncertain" economic environment, the snap general election and warmer weather during May and June.
Even still, in a remarkable show of confidence, DFS snapped up former rival Sofology for £25m last month and has continued to grow its collection of brands, penning a partnership with flourishing fashion brand Joules in order to broaden its appeal amid prolonged uncertainty.
The City no doubt will seek assurances from the sofa specialist when it reports its preliminary results on Thursday, October 5.
But if nervous consumers are holding off from making big-ticket purchases, it may not be the last word of warning issued by DFS.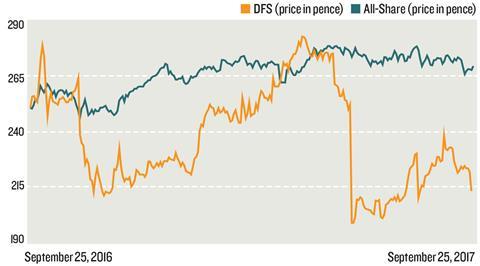 Sales slip at ScS
It's not all sunshine and daffodils at DFS' smaller sofa rival ScS either.
In a pre-close update last month the Sunderland-based firm said order intake slipped 0.7% on a like-for-like basis in its full year, and order numbers declined 5% in its second half.
ScS boss David Knight put this down to "challenging comparatives", but also flagged a "softening market environment".
Its final results on October 3 should give more detail on how the business plans to hold firm should the market weaken further still in the coming months.
Turbulence at Topps Tiles
But the full-year trading statement on Wednesday, October 4 from Topps Tiles will arguably prove the most elucidating, as the specialist's high average basket value makes it particularly vulnerable to shifts in the macro-economic environment.
Its boss Matthew Williams has spoken candidly throughout the year about the persistence of the shifts – as well as the tougher comparatives it has faced as a result of changes to Stamp Duty dampening the number of housing transactions.
But, unwilling to rest on his laurels and accept an uncertain fate, Williams has remained fiercely proactive to safeguard the company's resilience, sticking to its strategy of 'out-specialising the specialists'.
For instance, at a recent quarterly update, Williams said the retailer was on the brink of making a number of acquisitions that would allow it to enter into the commercial segment of the UK tile market.
The retailer is hopeful that this broadening of horizons, along with the continuous development of concept stores – such as its boutiques and a new medium-sized format – will ensure it's not left out in the cold.
Of course, uncertainty doesn't have to spell bad news for businesses in the home improvement space; as the old adage goes, if people are not moving, they may be improving.
But big-ticket retailers cannot afford to sit still. They will need to prepare for the worst, giving shoppers even more reasons to splash out if a repeat performance of the credit crunch is to be prevented.