Wickes chief executive David Wood says he is "curious" about the idea of high street DIY shops, a concept currently being trialled by competitors B&Q and Ikea.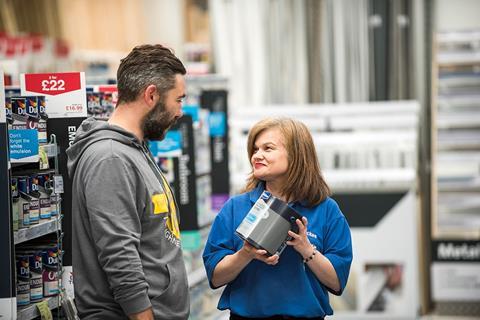 The home and DIY boss told Retail Week that, although he had no current plans to open a high street location, he was interested in the concept and would not rule it out in the future.
B&Q unveiled its 3,000 sq ft B&Q Local in London earlier this year, while Ikea opened its third Ikea Plan and Order store in Stockport earlier this month.
At present, Wickes operates primarily in retail parks with a store footprint of around 25,000 sq ft.
"I would argue we're reasonably compact anyway," said Wood. "If you look at B&Q, who have an average sq ft size of between 90 to 100,000, and Homebase, who are around 50,000 sq ft, we're already by definition quite compact.
"Right now, we're looking to open 20 stores over the next five years and I'm still looking at 20-25,000 sq ft on a really decent retail park. We've got a model that's working really well, but I'm curious about the high street, so let's see.
"We are the guys that are growing and taking market share, and I plan to continue to refine and sharpen that model."
Wickes this morning reported adjusted profit before tax of £75.4m, down 11.3% year on year from £85m for the year to December 31, 2022, and revenues of £1.56bn, up 1.6% from £1.53bn in the previous year.
The retailer's like-for-like sales grew 3.5% over the year and were up 22.8% on a pre-pandemic comparison, which it credited to "strong recovery in delivered [Do It For Me] DIFM sales".
DIY slowdown
Despite slower DIY sales, which represent a third of Wickes' business, Wood dismissed claims from the press today that suggest Brits have fallen out of love with home improvement.
"I think it's really important to recognise that the number of people in the DIY market, and the size of the market at a baseline level, is much higher than it was pre-Covid," Wood told Retail Week.
"We all recognise that DIY is coming off some incredible Covid high because the nation was locked up and had nothing else to do. But, according to our latest data, 28% of our polled customers said that home improvement and DIY was their number one priority for expenditure, more than going on holiday or going out.
"I would be more upbeat about the long-term structural change and the new customer base who has come into this market, notwithstanding any near-term challenges that the market may face because of the broader economic backdrop.
"Our fastest growing customer base is 18- to 35-year-olds and I think we're doing a really good job capturing that audience."
More women shopping DIY
Wood also said he had seen increased interest in DIY from women and that Wickes had invested in more female influencer marketing to make the most of this growth.
"We have grown our female DIY shopper base by 40% since 2019," said Wood.
"We've been doing great work with people like [singer] Kimberley Walsh. She's been doing a great job helping us generate really engaging content that will work with digital natives.
"Likewise with [singer and presenter] Rochelle Humes – we did 12 episodes of her house renovation programme. There are a few notable, younger female celebrities that are really into their DIY and home improvement and we've been working with them very successfully and, as a consequence, we're attracting their audience to our business."
Get the latest stores news and analysis straight to your inbox – sign up for our weekly newsletter