In stark contrast to its motto "Life is for Fun", Miniso has been involved in more controversies than the number of years it has been operational. From abandoning its Chinese heritage to allegedly faking its business model, Retail Week takes a closer look at the brand ahead of its expansion plans in the UK
Four years after opening its doors in the UK, Chinese lifestyle retailer Miniso has grown to 18 stores in the country with at least 10 more in the pipeline before the end of the year.
A newcomer in the UK, but big overseas, Miniso entered the country in 2019, with its first store in Ealing, West London.
Miniso UK chief operating officer Saad Usman says: "I think if anything we came pretty late to the UK in 2019 and Covid slowed us down a little bit. But everything happens, we believe, for a reason and we're happy to play our part in the revival of the retail space.
"We see quite a lot of sad stories in the retail market and we'd like to be one of those positive feel-good stories because I think that is at the centre of our brand."
Miniso is known for its fun and affordable products, ranging from daily necessities to electronics, household items, stationery and soft toys. One of the brand's most rewarding strategies includes its partnerships with brands and global IPs such as Disney, Pixar, Marvel and most recently Sanrio – best known for its Hello Kitty range.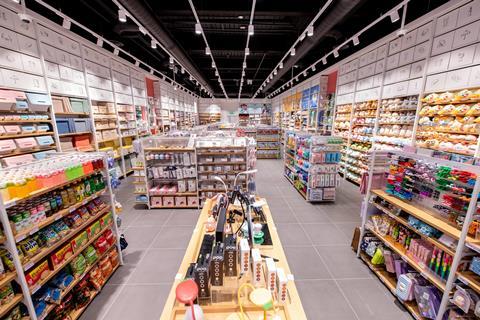 Taking inspiration from a trip to Japan, founder Guofu Ye started Miniso in 2013 in China. In its early phase, the retailer focused on expanding across China by appealing to a younger crowd in lower-income cities with its low price point and growing to 1,000 stores in the country by 2015.
After facing tough competition from multiple ecommerce platforms like Taobao and JD.com, the retailer ventured overseas in 2015.
Retail Week Data Analyst Hanna Hua says: "The retailer announced its 'global expansion strategy' in 2015 amid fierce competition in the domestic market. The brand has rapidly expanded in regions such as Europe, Latin America, North America and Southeast Asia."
Since then, the retailer has seen exponential growth, with more than 5,400 stores across the world in 105 countries. Miniso went public in the US in October 2020, with an initial public offering (IPO) on the New York Stock Exchange a mere seven years after it first started operations in China.
Having revealed Minisio is targeting a further 45 or 50 stores across the UK by 2025, Retail Week takes a closer look at the retailer's somewhat controversial history and how it will fare in the UK market.
Competition in the UK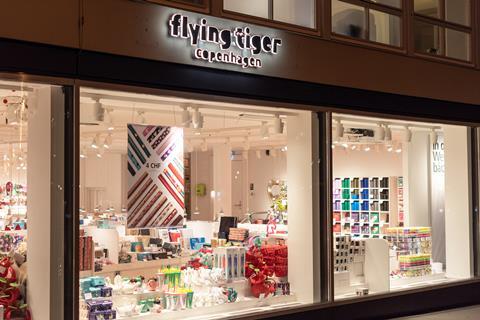 The demographic and market that Miniso targets are not as crowded and saturated in the UK as in China. Big players like Tesco, Sainsbury's and Ikea all carry the same products ranging from soft toys to stationery, albeit with much fewer SKUs.
Hua says: "In the UK, some of Miniso's direct competitors include retailers such as Muji, Uniqlo and Flying Tiger Copenhagen. Miniso's logo and branding have similarities to those of the Japanese firms Uniqlo and Muji. However, to UK customers, Miniso is not currently seen as an existing threat to Muji and Uniqlo's market share, as the latter two are well known for their quality and design."
Flying Tiger Copenhagen certainly stands out as the biggest competitor for the retailer, targeting a similar demographic at a similar price point with 85 stores in the UK.
The retailer's core business relies on store expansion, with its ecommerce offering being "a little bit of a sideshow" says Usman.
"The goal for any retailer is to have a true omnichannel experience and that means enabling a customer to not just purchase from every channel – online or from a store – but also to engage seamlessly between those channels.
"We know that we still have a way to go. Ecommerce is something that has always been a little bit of a sideshow for us. But this is hopefully going to change in the coming months. We are looking to overhaul our website and offer more products on it. Click and collect is definitely a feature we are looking to enable on our website and that is of high priority."
However, the Chinese retailer has the upper hand in the market, garnering mass appeal with products from brands like Disney and Marvel as well as lower price points.
Despite similarities with other retailers, Miniso doesn't seem very concerned about competition.
"I don't think there's any exact competitor," says Usman.
"I think we bring a bit of fun at affordable prices. We don't look too much elsewhere to other competitors, but want to focus on what we can offer. And hopefully, we can bring a smile to people's faces by doing that."
A controversial past
Contrary to its cute and fuzzy aesthetic, the retailer has had a troublesome history with questions being raised on its business model as well as its core brand offering.
In July 2022, the Chinese retailer's shares took a 10% dive in Hong Kong and 15% in New York after a short-seller report from Blue Orca Capital accused the company of faking its franchise network.
The retailer claims its store-expansion strategy works on a franchise model that helps the company to expand quickly while ensuring that operational costs remain minimal and margins high.
The report questioned this assertion and said that hundreds of the retailer's stores were secretly owned and operated by executives or individuals closely related to the chairman and the company.
Miniso denied all allegations, calling the report misleading and has continued to expand to more areas.
To add fuel to the fire, the brand was also accused of pretending to be Japanese by copying the logo and brand aesthetic of Japanese apparel brand Uniqlo.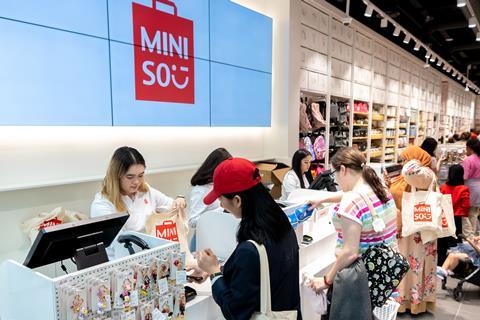 Miniso was called out for not honouring its Chinese roots and garnered a lot of negative attention in the Chinese media amid rising anti-Japanese sentiment, leading to a 37% fall in the company's stock.
The brand also faced accusations of breaking UN sanctions when it opened a Miniso fascia in Pyongyang, North Korea, in 2017.
Despite being caught in one scandal after the other, Miniso continues to perform. As it sets out to expand in a new and challenging market in the UK, it remains to be seen if it will manage to stay afloat or if its scandals back home will catch up with it.
Hua says: "The economic downturn may make customers less focused on ethical and sustainable practices and more on affordability.
"Miniso's strategy may work well under the current economic climate, despite the accusations. However, the retailer's success in the UK market will depend on its ability to remain agile, responsive to the market, operationally effective and maintain a smooth supply chain."