Carpetright boss Wilf Walsh is remaining bullish as the embattled retailer gears up for a make-or-break 2019.
The unveiling of its half-year results yesterday was never going to make for pleasant reading as the company executes its drastic turnaround plans.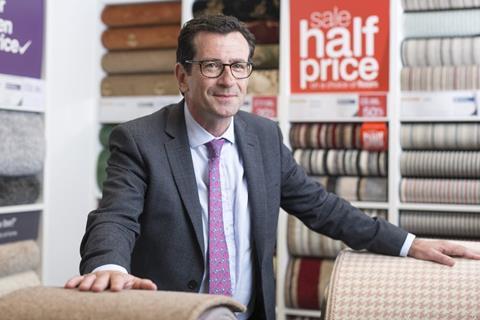 A CVA earlier in the year and two profit warnings resulted in negative headlines that had significant repercussions on consumer confidence.
"You cannot blame the media for reporting the facts," says Walsh. "It is all very newsworthy, but I think sometimes the headlines don't tell the full story and that can spook customers who are putting down a deposit on a carpet."
Sales figures suggest customers were spooked. In the UK, like-for-likes dropped 12.7% for the 26 weeks to October 27, which contributed to an underlying pre-tax loss of £12.4m for the period.
Crunch time
Nevertheless, the company has made significant progress on its turnaround strategy. It closed 65 underperforming UK stores in the period and 52% of Carpetright's remaining 345 stores have an option to break their lease within two years.
"What we are dealing with is a historically over-rented, oversized estate, with a lot of places in the wrong location," says Walsh. "The CVA, to a large extent, has eliminated a big chunk of that issue and accelerated the managed decline of the underperforming estate."
Next year will be crunch time for Carpetright because of the conditions of the banking covenants it has to meet for the equity it raised in June, GlobalData UK retail research director Patrick O'Brien says.
"There is still quite a worry in terms of whether or not they will be able to make all the banking covenants they outline in the half-year report," says O'Brien.
The covenants are subject to testing in January, April, July and October.
Carpetright has said: "Headroom against the EBITDA covenant is expected to be the most sensitive over the course of the next 12 months and is at its tightest level in October."
On track
The decline in like-for-like sales at Carpetright softened in the second quarter compared to the prior quarter, which should provide some comfort to the retailer.
Walsh claims like for likes could return to positive territory in early 2019 as they begin to "lap" challenges such as last year's Boxing Day sale, the Beast from the East and a drop off in footfall during the World Cup.
"The £19m annual savings plan is on track and the important thing is we are looking at lower turnover but more profitable turnover," says Walsh.
Carpetright also recorded its highest ever brand awareness scores in October following a new advertising campaign, while consumer sentiment towards the brand turned positive again in September and October.
"Are we turning the corner? Yes; I think we have a vice-like grip of everything that is within our control"

Wilf Walsh, Carpetright
Nevertheless, Carpetright is still locked in a battle to win back credit insurers.
"We are working with suppliers that are more cooperative around the credit terms," says chief financial officer Neil Page. "We will put more business their way than ones that are more inflexible."
Unfortunately, there are major factors beyond Carpetright's control such as the aggressive expansion strategy of arch-rival Tapi and the chaotic Brexit negotiations.
"It is impossible to talk about Carpetright without talking about Tapi," says O'Brien. "It really does feel like it is a retail deathmatch. It seems in the medium term these two carpet specialists cannot co-exist."
When asked about Tapi, Walsh says he is concentrating on Carpetright – but he cannot resist drawing attention to the Tapi finances.
"2017 was meant to be their breakeven year; they have now said 2018 is going to be their breakeven year. I guess we will find out whether that is the case," says Walsh. "Clearly the market is tight, competition is fierce and we are just focusing on doing the very best job we can. Even after closing 65 shops we have maintained market leadership at 19% [of the market]."
Tapi recorded a loss on ordinary activities before taxation of £10.9m for the period ending 30 December 2017, according to its accounts on Companies House. This was a slight widening of a £10.2m loss during its previous financial year.
O'Brien believes neither business would have predicted the intensity of the battle for the consumer wallet when making investments and raising equity.
"Neither could have possibly foreseen how bad things have got in relation to the political uncertainty we are now experiencing, which is probably at its worst currently," says O'Brien. "Consumer confidence is at very low levels and falling month on month and things have not been helped by the delay to the vote [on Theresa May's Brexit deal].
"In terms of people being able to look forward with their finances to make big-ticket purchases, it is very damaging."
'This wretched Government'
Carpetright is preparing for the worst-case Brexit scenario by ensuring it has adequate supply of its best-selling product lines through April and May.
Walsh is scathing about the political situation facing the country.
"Are we going to get to where we need to be at the end of the financial year? The answer is yes. Are we turning the corner? Yes; I think we have a vice-like grip of everything that is within our control," he says. "What we have not got a grip of is this wretched Government and Brexit, and the consumer sentiment that comes out of that."
The future health of Carpetright, and British retail in general, could well depend on the outcome of the turbulent Brexit process.
Carpetright has taken the right steps within its power. How next year unfolds will be critical to its survival.