All beauty market gains came from in-store retail in 2022 as ecommerce sales across the whole economy in the UK fall to pre-pandemic levels, new research by the British Beauty Council has found.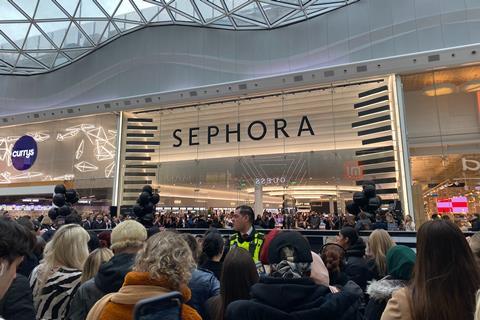 In 2022, the personal care industry supported a total GDP contribution of £24.5bn, according to the Value of Beauty 2023 report published by the council.
Just over half of the total GDP contribution amounting to £12.3bn was generated by the industry itself, representing 0.5% of the UK's GDP.
"In 2022, 100% of our market gains have been in [physical] retail." British Beauty Council chief executive Millie Kendall told audiences during the presentation of the report.
The personal care industry provided 550,000 jobs in the UK, accounting for one in 50 roles. The report said: "379,000 of these jobs were supported directly by the industry itself, with the hair and beauty services sector supporting direct employment of 209,000 alone."
This represents 1.1% of total jobs in the UK in 2022 and is comparable to the employment of the UK's legal services, warehouse and storage, and hotels and accommodation sectors.
In 2022, the industry contributed £6.8bn in tax to the Treasury, with a direct tax contribution of £3.4bn and a further £1.3bn arising from indirect and £2.2bn from induced channels.
The report comes two months after French beauty retailer Sephora made its comeback in the UK market after 17 years with its first store at Westfield London.
Kendall said Sephora's touchdown in the country would not affect the sales of other retailers in the beauty space such as Boots and Superdrug.
She said: "We really need experiential retailers like Sephora because that's what is driving our industry at the moment. I think we are quite thin on the ground in terms of retailers in the beauty space. We really needed a good pureplay beauty retailer.
"If anything, Sephora will help other beauty retailers because it draws a focus to the sector. With the demise of department stores like Debenhams and House of Fraser, I think Sephora fills that gap or will fill that gap in the market when it starts to expand nationwide.