THG has announced a 10-year strategic partnership with beauty ecommerce retailer Maximo Group, which owns sites such as allbeauty.com and fragrancedirect.co.uk.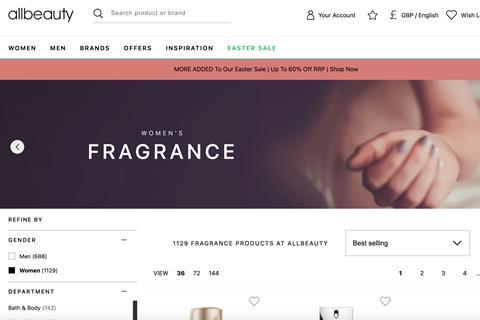 THG said its initial focus will be on re-platforming those sites to the Ingenuity platform, alongside being Maximo's key operational partner in the UK and providing warehouse and fulfilment services from the second quarter.
The deal encompasses "website services including design, build, hosting and maintenance; warehousing and fulfilment services; and end customer delivery services via THG's network of global couriers", said the retailer.
The deal is expected to add £150m gross merchandise value in excess to the Ingenuity platform annually.
THG chief executive Matt Moulding said: "We are proud to announce our partnership with Maximo. This represents the early fruits of our focus on larger enterprise customers and underlines our position as the online partner of choice for the prestige beauty industry.
"I am delighted with the progress of our refocused sales team, with our pipeline continuing to build momentum. Our unique end-to-end global multichannel solution means our addressable market across beauty, FMCG and retail is significant and will continue to expand as a result of our continuous programme of innovation."
Maximo Group chief executive Ian Smith added: "Aligning our digital strategy with THG Ingenuity's technology and operational capabilities will enable our customers to benefit from an enhanced shopping experience, from browsing on-site, through checkout to delivery.
"As a brand owner, THG understood our ambitions from the outset, with Ingenuity's track record of re-platforming large beauty brands making them a natural strategic partner. We have been deeply impressed with the speed at which Ingenuity has delivered and their commitment to a true partnership from outset."