After spending 10 years as the managing director of men's skincare brand Bulldog, Ben Grace launched SBTRCT in August 2020 with "a mission to create the highest-performing skincare products with the lowest environmental impact".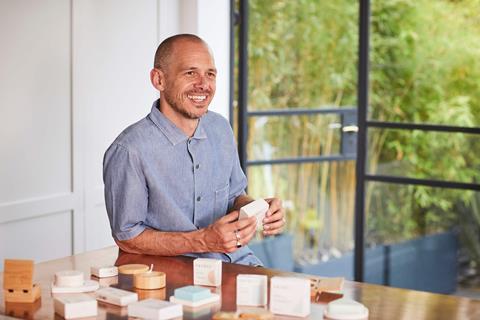 Starting as a direct-to-consumer business, SBTRCT has grown to become a B-Corp-certified brand available for sale on Sephora's UK website and in Harrods' H Beauty stores.
SBTRCT's "only full-time employee" Grace talks to Retail Week about the freedom that comes from being a founder, the challenges of building a sustainable beauty brand from scratch and the limitations of established beauty brands.
What is the story behind SBTRCT?
"With Bulldog, I got to be as close to being a founder without actually being the founder, but I still had that itch that I wanted to scratch, which was to create my own brand of products that I could put out there into the world.
"I started to think about that after my time at Bulldog. As I cut back during my time off, I started to notice that I became happier and more content, the simpler my life became. And that's where this idea of less is more came from, which is the ethos that runs through the whole of our business. And the reason the brand is called SBTRCT in the first place.
"It's an idea that if you strip out everything you don't need in life, you're more able to love and value the things you've made a conscious choice to keep. And I believe that to be the future of our society and of consumerism.
"I wanted to have a go and apply this to the creation of a skincare brand. Between 2017 and 2019, the world had moved on so quickly in terms of awareness of the climate crisis, but it felt like the world of prestige beauty specifically was slow to sit up and take notice.
"And that's not because they're bad or evil. It's just because they are large organisations, it's very difficult to reverse out of manufacturing practices and packaging practices overnight.
"In comparison, I felt quite privileged to be able to have visibility of the challenges that I wanted to tackle and create something that has a lower impact on the environment."
In terms of scaling the business, what is your plan for the next few years?
"We're definitely looking at more retail partners in the UK and overseas, but that is a gradual process. We've found that it only takes one retailer to back you before the others can really see your value.
"If you're a small brand particularly, retailers are more risk averse now than they have been for some time in terms of taking on new brands.
"Understandably, they're very focused on their own growth and they want to make sure they're placing safe bets. Selling through H Beauty in Harrods and sharing shelf space with all the other prestige brands has really helped to open doors and discussions.
"We've got a number of live discussions with various big retailers here in the UK. That is definitely a goal for us as well as a really strong pipeline of new products set to launch later this year."
SBTRCT was recently awarded B-Corp certification, what does that mean for your business?
"B-Corp certification has always been an ambition of mine ever since we first launched SBTRCT in August 2020. I think it's important to have these accreditations, particularly when you're doing something like we are and you need to validate everything that you're saying.
"B-Corp is not just a badge you get and then put your feet up. It's a framework for how we can keep improving as a business as we grow and give back to the local community, to our supply chain as well as to employees and shareholders."
Who are your main competitors and what differentiates SBTRCT from other sustainable skincare brands?
"That's a good question because there isn't really anyone.
"That was why I was so excited when I initially thought of the idea. I drew out this matrix of entry-point skincare, prestige skincare and plastic-free skincare. And there's this big white space in the prestige plastic-free area. You've got brands like Lush, but they're not using these active ingredients or are not aspirational in the same way that we are.
"We are competing with the likes of Ren Skincare or Haeckels, but we're very different and offer something very different. We are the first ones to bring active skincare ingredients like vitamin C and retinol to solid skincare and that truly differentiates us."