Halfords is aiming to make cost savings on its property portfolio as 150 leases come up for renewal.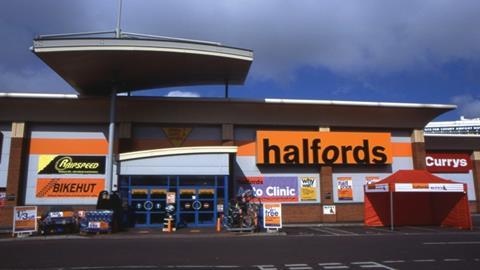 The car parts and bikes specialist said 30% of its portfolio was due for renewal in the next three to five years, but chief executive David Wild said it would close only "a few" stores outside of London to manage costs. He added that on other leases Halfords would renegotiate rents and downsize stores.
Investec analyst David Jeary said: "There could be a meaningful reduction in operating costs from a combination of lower rents, 'cut downs', and resites."
Halfords wants to open more express stores in London, where it currently has three such trial stores focused on bikes.
Although in line with expectations, Halfords' 20.4% drop in pretax profit to £54.7m in the six months to September 30 has resulted in it prioritising reducing property costs.
Wild said: "We are continuing to look at downsizing and relocating [express] stores, while we want to open more in London. We're now looking at refining the formula of the express stores and hope to open more and bigger stores."
Retail like-for-likes fell 1.9%. Group turnover was flat at £454m.
Wild said that the retailer absorbed rises in raw material costs in the half, which led to a gross margin squeeze. He added:
"If costs increase we won't put the price up. It would cost us a significant amount of sales if we did."
Peel Hunt analyst John Stevenson said: "The key risk from our perspective remains the group's ability to stabilise gross margin performance."
At the retailer's Autocentres arm, which it acquired last year, like-for-likes were up 2.7% and revenue jumped 9% to £53.4m.