Sales at grocery giant Walmart, parent company to Asda in the UK, fell 1.3% to $117.4bn (£77.12bn) in its third quarter of the year.
The grocer said sales in the US grew 1.5%, up for the fifth consecutive quarter, while international sales fell 11.4% to $29.8bn (£19.57bn) during the period, partly due to the strong US dollar.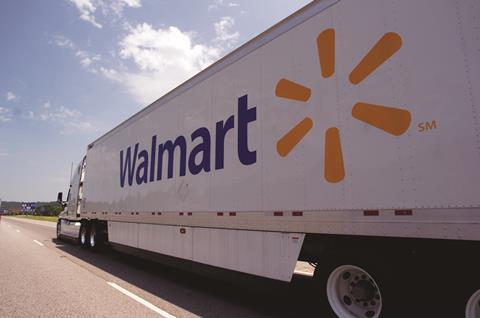 Operating income fell to $5.7bn (£3.74bn) from $6.3bn (£4.13bn) in the same period the year before.
Doug McMillon, president and chief executive of Walmart, said: "We are pleased with the continued sales growth in Walmart US and in our international business. Strong traffic and our fifth consecutive quarter of positive comps in Walmart US stores show we are taking the right steps to win with customers.
"Although we still have work to do, we are positioning for sustainable growth through investments in people and technology to deliver a seamless shopping experience at scale."
Conlumino chief executive Neil Saunders said: "As poor as the numbers are it is important to recognise the negative impact of international on the performance. Walmart, like many other US retailers, is feeling the heat of the strong dollar which is having a deleterious impact on the contribution from overseas divisions.
"The scale of this can be measured by the fact that the 11.4% slip recorded for international sales translates into 3.2% growth when the vagaries of foreign exchange are removed. This, in turn, adds an extra $5bn of sales to the total number which would equal net sales growth of around 2.8% over last year."