US rapid-delivery giant Gopuff has launched across ten UK cities on the same day Superdrug rolled out a two-hour home-delivery service.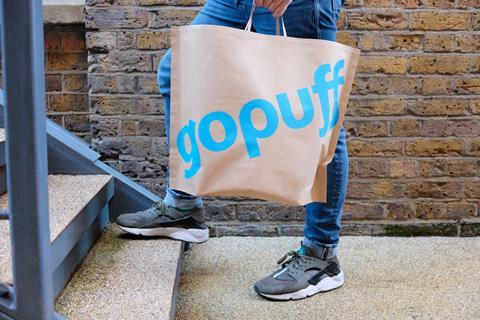 Gopuff has today rolled out a delivery service to customers in Birmingham, Bristol, Cardiff, Leeds, Liverpool, London, Manchester, Newcastle, Nottingham and Sheffield.
The announcement marks the first time the Philadelphia-based company – which currently delivers to more than 500 cities across the US – has launched with its own branding outside the US.
Gopuff had tapped into the steadily growing on-demand delivery market in the UK earlier in the year with the purchases of start-ups Dija and Fancy.
It said its goal was to be in 33 UK cities by the middle of next year, and that the latest announcement was a "significant milestone in Gopuff's long-term commitment to the UK market – the first market for the company to operate outside of the US".
The rapid-delivery grocer operates a vertically integrated model, which it said allows it to "make its margin on products". Customers will be charged a flat £1.79 fee per order, and will be able to choose from a selection of curated products including artisanal Little Moons ice cream and plant-based foods from Deliciously Ella.
Gopuff already has 30 micro-fulfilment centres in Europe and employs more than 1,000 people – two thirds of those in the UK.
Founded in 2013, the tech business is currently valued at more than $15bn (£11bn) and secured an extra $1bn (£738m) of private equity investment at a fundraising round earlier this year.
Co-founder and co-chief executive Yakir Gola said: "Over the last eight years we have continued to define the instant needs category and shown significant and sustainable growth across the US. Our goal was always to be the world's go-to solution for everyday needs and making Gopuff available in the UK is just the start of our international expansion.
"The well-established relationships, expertise and infrastructure Fancy and Dija provide us, along with strong local ties in all the communities we're now operating in, will be invaluable.
"We aim to be the leader in bringing our British customers fast and affordable delivery of our diverse assortment of products."