Thorntons profits slumped 10% as the supermarket price war took its toll on the confectionery retailer.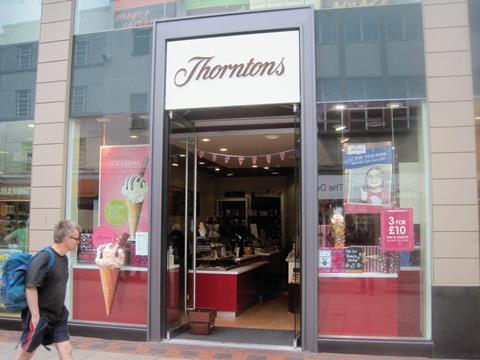 Pre-tax profit for the 28 weeks to January 10 fell to £6.5m from £7.2m for the same period in 2014, due to struggles in the division that supplies the big grocers.
Sales to the grocers and other third-party retailers declined by 12.4% to £54.7m. That drove a fall in overall sales of 8.2% to £128.2m.
FMCG division sales declined 11.2% to £62.7 million, but Thorntons retail division continued to grow with like-for-likes up 2.1% on last year.
That performance was driven by an "outstanding" Christmas trading period, which saw sales in December jump 7.8%.
Online sales also jumped 11.4% to £4.5 million as shoppers snapped up Christmas hampers. Sales of those increased by 49% over the period.
Supplier cutbacks
The results come off the back of a profit warning in December, which Thorntons bosses blamed on a "significant reduction in previously indicated orders from the major grocers."
The big four grocers have fought back against the discounters with rigorous price cuts dedicated largely on own brand products, meaning customers have shunned brands like Thorntons if they appear too expensive.
But Thorntons chiefs are confident that they will "continue to make progress" with their strategy of transforming the retailer into "an emerging international FMCG company" despite the "difficult trading conditions."
Thorntons chief executive Jonathan Hart said: "We report a mixed performance from our two divisions. Our retail division delivered further like for like sales growth as a result of actions we have taken to improve its performance. Our FMCG division, however, suffered from difficult trading conditions in its UK commercial sales channel. We responded quickly by controlling costs and production.
"Our retail performance and brand tracker demonstrate that the Thorntons' brand continues to strengthen, providing us with the confidence that we can improve certain commercial relationships, focusing on sustainable growth.
"We continue to make planned investments in people, systems, and manufacturing capability, needed to succeed in the FMCG market. We have taken the first steps in a programme to improve the effectiveness and efficiency of the core business, restructuring our executive team and business functions in order to create an organisation that will win in FMCG.
"The difficult trading conditions in our UK commercial channel have persisted into the second half. Ahead of our key spring seasons, we continue to be cautious in our expectations for the full year. We maintain strict control of costs and production and remain confident of our strategy. We are well positioned to take advantage of an improvement in consumer spending."