Thorntons chief executive Jonathan Hart has refused to blame reduced orders from supermarkets for the retailer's tumbling profits.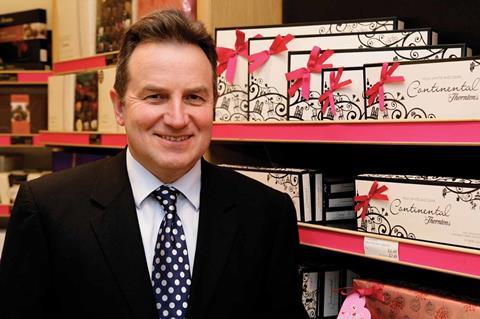 Hart admitted that Thorntons "didn't anticipate" decisions from its grocery partners to withdraw previously agreed orders, which saw profits in Thorntons' FMCG division plummet 11.2% to £62.7m for the 28 weeks to January 10.
That drove Thorntons' overall pre-tax profit down to £6.5m from £7.2m the previous year.
But Hart insisted Thorntons' success is "in our own hands" and admitted it needed to make "critical" changes in order to achieve its long-term aim of becoming an international FMCG supplier.
Those changes have included re-structuring its new warehouse after encountering "short-term difficulties" over Christmas and setting up a separate board overseeing the FMCG side of the business, which will be headed by Hart, following a "comprehensive review" of its management structure.
On the impact the reduced orders from supermarkets had on Thorntons' results, Hart told Retail Week: "We had been working together with them over the course of the year and as we got into the meat of the season, we clearly didn't anticipate the decisions that they made late in that season, nor the severity of the impact that it would have on our business.
"But I'm very much of the view that our success and our future is in our own hands. For the last three-and-a-half years we have been very clear about the strategy and the direction of our business."
'Critical' changes
Hart added: "We have put in place plans to improve the performance of our retail business whilst right-sizing it, and I was clear to outline the changes that we needed to make that were critical to the long-term success of our business in the FMCG marketplace.
"This is the transformation of a business that for over 100 years has been fundamentally focused on supporting its retail channel to one that needs to develop to support over 100 customers. That requires a comprehensive review of systems, people and processes and the way we organise ourselves.
"The introduction of the FMCG board has been the result of planning that has taken place for some time and precedes the performance challenges that we saw in the latter half of 2014. It's not a response to those challenges, it just so happens that those challenges give us extra impetus to ensure those are put in place."
Describing the fall in FMCG profits as a "setback", Hart insisted he is "confident" the new structure will enable the retailer to "re-establish a positive sales trajectory" in its commercial sector in 2015.
He added: "We understand what happened and we have put in place actions that we have been planning for some time to strengthen our business transformation from a retailer to an FMCG business and we feel those actions will go a long way in addressing some of the challenges that we've seen.
"This affirms our commitment to our transformation and provides us with a position of strength from which we can implement the plans that we have."