Tesco has unveiled pay rises for all its shopfloor staff, but confirmed plans to reduce premium payments for Sunday and Bank Holiday shifts.
The supermarket giant said the pay increases will be worth up to 3.1% for employees working in stores across the UK. The plans will take the rate of pay for all colleagues to at least £7.62 per hour – outstripping Chancellor George Osborne's national living wage of £7.20, which comes into effect in April.
Tesco said the new two-year pay package will see colleagues continue to receive a pension, staff discount and a 5% turnaround bonus. The new pay rates, which apply to staff of all ages, will come into force on July 3.
But as previously reported, the grocer is also slashing pay rates for working Sundays and bank holidays as part of the changes, which it said were designed to create a "simpler and fairer" approach to premium payments.
The retailer said any colleagues negatively impacted by the move would receive a lump sum worth 18 months of the difference in pay.
Benefits reshuffle
It comes months after Tesco chief executive Dave Lewis warned in October that staff could lose some of their benefits as the impact of the living wage takes hold.
He told the IGD conference: "We are in negotiation with trade unions now about how we might develop this going forward and whether we give the option to colleagues to decide whether they want the benefits or they want the cash, given whatever their life circumstances are.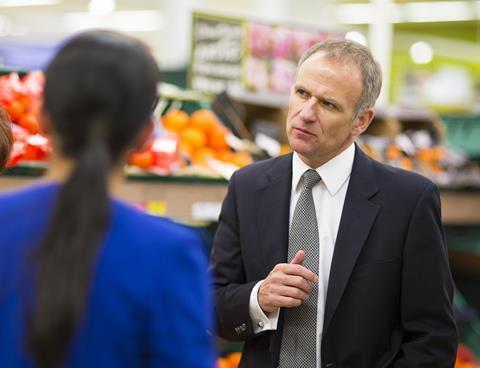 "We are supporters of the hourly rate and in a sense you could say 'what's your problem'. But I very, very strongly refuse to accept that this is just a debate about what the hourly rate is."
Tesco UK and Ireland boss Matt Davies said: "We've spent a lot of time working with Usdaw and colleague representatives to understand what's important to colleagues.
"Together, we've agreed one of the highest pay and benefits packages in retail for store colleagues, and introduced a simpler and fairer pay structure, including one approach to premium payments.
"As well as an increase in pay which puts our hourly rate well above the Government's national living wage, we remain absolutely committed to rewarding our colleagues with a pay and benefits package they really value, including a pension, colleague discount and 5% turnaround bonus."
Pay across grocery
Tesco's grocery rival Aldi began paying its staff a minimum of £8.40 per hour from yesterday, a rate that rises to £9.45 for those working in London. Fellow discounter Lidl pays £8.20 per hour and £9.35 in London.
Sainsbury's handed its 137,000 shopfloor workers a 4% pay rise in August, with staff of all ages now earning £7.36 per hour.
Morrisons, which currently pays store staff a minimum of £6.83 per hour, is increasing that rate to £8.20 from March. Asda staff working outside London currently earn £7 per hour.