Tesco has launched a new TV advertising campaign focusing on its drive to improve customer service, in a bid to woo back more shoppers.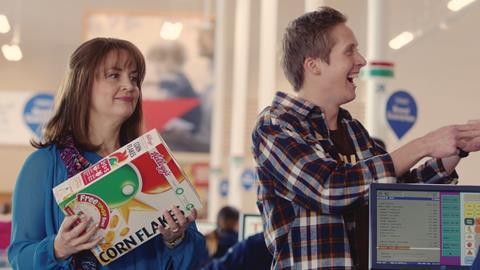 Tesco unveils new TV ads focusing on the customer
Adverts reveal "recommitment" to 'every little helps' slogan
Humorous sketches promote new Brand Guarantee scheme
The new ads will see the supermarket giant make a "recommitment" to its well-known 'every little helps' slogan, highlighting improvements to store experience.
The two adverts will be screened for the first time on Sunday night, one promoting the launch of the new Brand Guarantee scheme, while the other shows how Tesco is opening more checkouts to cut down queuing times through its 'one-in-front' promise.
"There has been a real commitment to making behavioural changes that are going to make it easier for people to shop at Tesco"

Michelle McEttrick, Tesco
The grocer aims to open a new checkout for customers if more than one person is queuing in front of them.
Created by advertising agency BBH and filmed at Tesco's newest store in Newmarket, the adverts follow a family during their regular shop.
Injecting a sense of humour into the campaign, Gavin and Stacey star Ruth Jones stars as mum Jo alongside actor and comedian Ben Miller as her husband Roger. Up-and-coming actor Will Close plays their sons Freddie.
Tesco group brand director Michelle McEttrick labelled the grocer's positioning to "put customers at the heart of what we do" as a "recommitment to 'every little helps'".
McEttrick told Retail Week: "As Dave Lewis said when he first joined, you can't advertise yourself out of problems you've behaved your way into. There has been a real commitment to making behavioural changes that are going to make it easier for people to shop at Tesco.
"Only now, after a year of that experience, do we feel it is right to publicly relaunch the brand."
Speaking at Tesco's interim results briefing earlier this month, chief executive Lewis admitted Tesco had lost shoppers to a number of its grocery rivals, but insisted the retailer had started to win them back after seeing gains in sales volumes and the number of transactions at the till during the first half of the financial year.
Brand Guarantee
As revealed by Retail Week, the grocer launched its new Brand Guarantee initiative earlier this week in a further move to entice more consumers back through the door.
Tesco has replaced its Price Promise scheme with the new Brand Guarantee initiative. If a shopper's basket of 10 items or more would have been cheaper at any of its three biggest competitors – Sainsbury's, Asda and Morrisons – they will be given an instant discount at the till.
"There won't be one silver bullet. There are a lot of smaller things that add up, so we are back to 'every little helps' in its true sense."

Robin Terrell, Tesco
Tesco chief customer officer Robin Terrell said Brand Guarantee was "a big deal" that would help shoppers "trust us again".
Terrell added: "We know this is important to customers but so is on-shelf availability, so is having colleagues that can serve them, so is the deliveries they get from our online business.
"There won't be one silver bullet. There are a lot of smaller things that add up, so we are back to 'every little helps' in its true sense."