Tesco has revealed the locations of the 43 stores, nearly half of which are Express branches, that will close in an attempt to cut costs.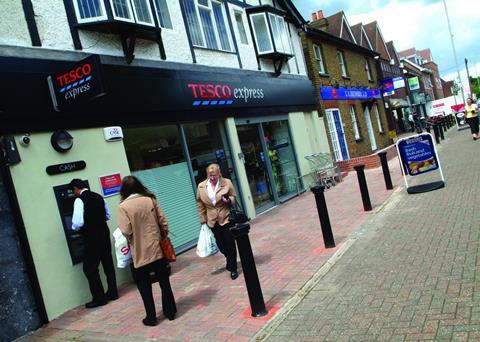 Around 2,000 jobs are under threat after the supermarket giant made the sweeping cuts to stores across the UK, which includes superstores in Doncaster and Wrexham.
In total, 18 Express, 12 Metro, seven superstores and six Homeplus stores are shutting their doors.
Tesco made the announcement at lunchtime after internal meetings had taken place with the staff members at affected branches this morning.
The grocer said it will be consulting with those 2,000 colleagues this week.
Express and Home Plus stores are set to be shuttered on March 15 with the Tesco Metros and Superstores on the list closing on April 4.
As previously reported by Retail Week, it was initially anticipated that just over half of the 43 stores to be closed would be Express branches.
As part of new chief executive Dave Lewis' cost-cutting measures, plans to expand its portfolio with 49 new developments have also been shelved.
Lewis said that the cuts, which also include the closure of the grocer's Cheshunt headquarters and consolidating it into the Welwyn Garden City office, will deliver savings of £250m per year at a one-off cost of £300m.
Tesco remains in consultation over proposals to close its defined pension benefit scheme after confirming it will not pay a final dividend for 2014/15.
Lewis said: "In January I announced that our performance as a business has fallen significantly short of where we would want it to be and that to protect the future of the business in the UK we would close 43 unprofitable stores.
"The decision to close the stores has been exceptionally difficult to take. I recognise it will affect many hard working colleagues, our customers and local communities.
"Our priority is to explain what this announcement means for our colleagues and wherever possible, offer them alternative roles with Tesco. We will continue to serve our customers through other local stores and our dotcom service."
The list of stores set to close:
Bearwood Express store
Belvedere Express store
Church Street Ballymena Express store
Heaton Chapel Express store
Heybridge Essex Express store
Houghton Regis Express store
Liverpool Kensington Express store
Longbridge Road Barking Express store
Northfield Birmingham Express store
Raymouth Lane Worksop Express store
Sheffield Manor Express store
South Tottenham High Road Express store
Tredegar Express store
Troon Express store
Walsall Wood Express store
Wealdstone Express store
Whitley Bay Express store
York Road Hartlepool Express store
Bicester Metro store
Bootle Metro store
Caerphilly Metro store
Crossgates Metro store
Devizes Metro store
Grangemouth Metro store
Mexborough Metro store
Morecambe Metro store
Ormskirk Metro store
Runcorn Metro store
Smethwick Metro store
Woodseats Metro store
Bedlington Superstore
Chatham Superstore
Connswater Superstore
Cregagh Road Superstore
Doncaster Superstore
Kirkcaldy Superstore
Wrexham Dodds Lane Superstore
Bristol Cribbs Homeplus
Chelmsford Homeplus
Chester Homeplus
Edinburgh Homeplus
Southampton Homeplus
Staines Homeplus
Tesco swings the axe on stores and jobs amid fears of more to come
1

2

3

Currently reading

Tesco: Details of store closures revealed as 2,000 jobs face axe