Waitrose has upped the ante in the supermarket price war by unveiling a scheme that allows its customers to hand-pick the groceries they receive discounts on.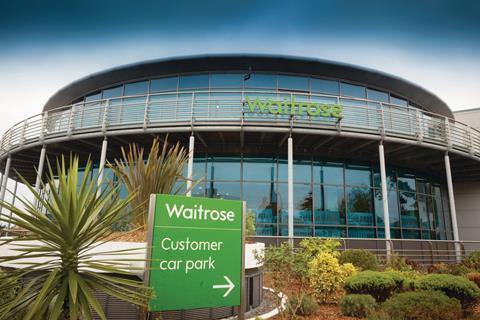 Pick Your Own Offers has been dubbed a "worldwide first", designed to knock around £5 off the average grocery basket at the upmarket grocer and drive consumer loyalty, at a time when its big four rivals continue to lose customers to the discounters.
MyWaitrose card holders can pick 10 items from a list of 1,000 on which they receive a 20% discount every time they shop and customers can switch their 10 items every three months. But will it be the "game-changing" initiative Waitrose bosses believe it can be? Retail Week has carried out a SWOT analysis of the initiative.
Strengths
Personalisation: Waitrose maintains the scheme is a "worldwide first" and, while the idea of personalisation has existed for some time, the grocer has taken it to a new and unique level.
Personalised vouchering has been used widely by the grocers but the control still lay in the hands of the retailer. Allowing customers to hand-pick the products they want to save money on puts them in charge.
It also creates a discount that is clear and transparent – something that cannot be said of all supermarket deals, some of which have been described as "dodgy" and "misleading" by consumer group Which?.
Price: In a market in which grocers are seemingly racing to the bottom as far as price is concerned, Waitrose needs to offer its customers a more compelling value proposition.
It cannot compete with the discounters on price and the majority of its customers probably do not want to shop at Aldi or Lidl anyway. But at the same time, shoppers still want bang for their buck.
The grocer's Price Match scheme alone did not deliver that, but Pick Your Own Offers makes an important statement that there is value for money to be had at Waitrose.
Loyalty: Rather than position this as the latest salvo in the grocery price war, Waitrose bosses were keen to emphasise that driving brand loyalty was the primary reason for introducing the scheme.
The goal is to keep hold of existing customers and attract new ones – something Pick Your Own Offers has the potential to do.
Not only should it drive loyalty to Waitrose, but also to suppliers because customers can select their favourite brands on which to regularly save cash. Waitrose boss Mark Price insisted suppliers can see this potential and have already "bitten [Waitrose's] hand off" to be involved in the scheme.
Weaknesses
Customer experience: On first observation, there is room for improvements to the Pick Your Own Offers website functionality.
While the 1,000 products are broken down into categories such as fresh, frozen or dairy, there is no option allowing shoppers to search for a desired item.
Scrolling through a list of 42 breakfast cereals is more time-consuming than typing in a favourite brand and could antagonise time-pressed shoppers. However, the option to import 'favourite' products from another online supermarket or from a Waitrose receipt is a handy function that speeds up the selection process.
Complexity: There is an argument that offering as many as 1,000 products to choose from could boggle the minds of some shoppers.
Waitrose's marketing gurus claim there are more 10-item combinations available than there are grains of sand on Earth – and having to pre-select them online makes the process slightly clunky.
Following Lidl's dig at the complexity of Morrisons' Match & More scheme, perhaps Waitrose should be braced for a similar retort from its rivals.
Cost: Price admits the scheme is a gamble, particularly because he is not sure how much it will cost the grocer in the long term. He estimated it could cost Waitrose "£5m a week", a prediction based on 20% of its 5.7 million myWaitrose card holders saving an average of £5 a week.
Price is banking on attracting new shoppers and convincing his existing customers to spend more to offset that cost.
Opportunities
Expanding the offer: Waitrose has handed customers an initial list of 1,000 products to choose from, with a 20% discount on each item across the board.
But Price spoke at length about the opportunity Waitrose has to extend that. The list will change on a seasonal basis and could easily expand in future to include a greater number of own-label and branded SKUs.
The savings being offered could also fluctuate. Price hinted the discounts could reach 50% on certain products at certain time periods, in collaboration with suppliers.
Building trust: As Waitrose's grocery rivals, particularly Tesco, struggle to rebuild trust and transparency following a turbulent few years, the upmarket grocer could seize this opportunity to put itself head and shoulders above rivals on that front.
The big supermarkets have been tainted by disingenuous promotions, yet Waitrose has found a novel way to give its shoppers personalised deals that they genuinely want and are easy to understand.
That could act as a catalyst for Waitrose to position itself as the consumers' champion if it places Pick Your Own Offers at the heart of its marketing strategy.
Threats
Clubcard and Nectar: The obvious threat to Pick Your Own Offers comes in the form of retaliation from the big four.
Morrisons' boss David Potts is understood to be reviewing its Match & More card, but it is the Tesco Clubcard and the Nectar scheme used by Sainsbury's that pose the biggest menace.
If the Waitrose scheme succeeds in winning shoppers from the big four, a similar riposte from Tesco and Sainsbury's could come along relatively rapidly.
And as promotional participation eases, perhaps prompting a reappraisal by grocers over how they use personalisation, Waitrose will have to make the most of its head-start.
Customer expectation: Although Waitrose is offering its customers the choice of 1,000 products, that might not be enough for some.
Plenty of popular products do not feature on the list, including Cadbury's chocolate bars, Walkers crisps, Cravendale milk, Hovis bread and Coca-Cola, while only a limited number of the popular Essential Waitrose products make the cut.
There is a chance Waitrose could become a victim of its own success and face pressure from shoppers to add more and more products to the Pick Your Own Offers selection.