The Government is poised to launch a consultation into how supermarket price comparisons can be made simpler for shoppers.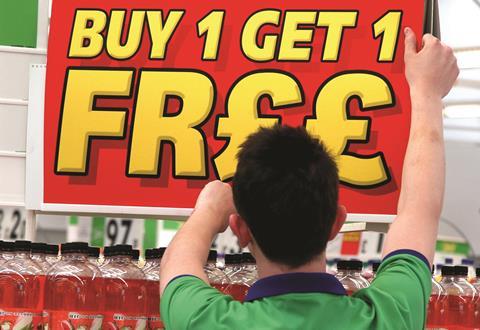 Consumer minister Nick Boles revealed the plans today as part of the Government's response to the Competition and Markets Authority's (CMA) investigation into a super-complaint made by Which? in May.
The consumer group gathered a dossier of examples over a seven-year period that highlighted "misleading" price deals and "dodgy special offers" at some of the UK's leading grocers including Tesco, Asda, Sainsbury's and Morrisons.
Iceland boss Malcolm Walker told Retail Week that the complaint was "bollocks" when asked about the situation in July.
The CMA did not find systematic problems in the way supermarkets were displaying prices and ruled that grocery retailers were generally taking compliance seriously. However, it said it would be communicating with supermarkets around areas including simplifying unit pricing.
It also advised that the Department for Business, Innovation and Skills (BIS) published best practice guidelines on the "legibility of unit prices, and looks at ways to simplify and clarify legislation".
Pricing consultation
Now BIS has pledged to launch a consultation "later in the autumn" to explore options on how unit pricing can be improved, including "measures to simplify existing unit pricing legislation."
Boles said: "Shoppers need to be able to get the best deal and make comparisons easily so we will look at how we can make information on price as clear and as simple as possible.
"The Government takes the Competition and Markets Authority's findings and recommendations seriously and it is important that the supermarkets do too."
It came as the Chartered Trading Standards Institute launched a consultation on the Pricing Practices Guide today to clarify how the legislation applies to promotional activity. That was another key recommendation made by the CMA in its ruling.
Reaction
Aldi managing director of buying Jonathan Neale said: "Consumers want clear, simple and consistent pricing wherever they shop, not ambiguous or confusing gimmicks.
"We do not believe that price matching and brand guarantee schemes serve the best interests of customers. Instead, we focus on providing quality products at transparent, everyday low prices that people can easily understand.
"According to Kantar Worldpanel data, the average price customers pay per item at Aldi is 43p cheaper than the market average. This makes a significant saving on a typical weekly shop and shows that other retailers simply can't compete with us on price."
British Retail Consortium director of business and regulation Tom Ironside said: "We are very pleased that the Government has recognised that the CMA report did not find any evidence of systemic issues, as we said previously it would not.
"We will be engaging positively with the Government's consultation on unit pricing, an area where we have been engaging positively with stakeholders for some time now."