Supermarket chain Sainsbury's has opened a meat-free butcher in east London to cater for the growing vegetarian and vegan population.
The pop-up store will sell vegan mincemeat – made from soybeans, peas and carrots – jackfruit quarter pounders and chorizo-style shroomdogs.
A poll of 2,000 customers commissioned by Sainsbury's found that more than half of Britons have never tried a plant-based alternative to meat, and a fifth – who considered themselves to be meat eaters – described plant-based food as "rabbit food", according to The Guardian.
Sainsbury's has registered a 65% increase in the sale of plant-based products this year compared with 2018.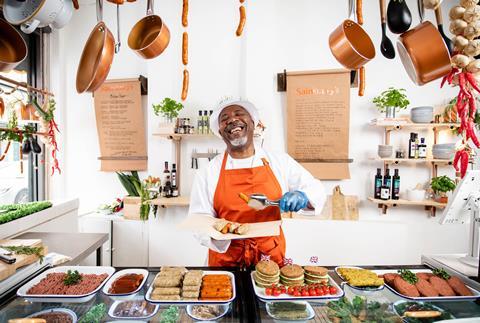 Over half of the UK population are reducing their meat consumption while only 4% are vegetarians and just 2% are vegans, according to a recent YouGov poll.
Sainsbury's buyer James Hamilton said: "Whilst we're seeing a huge climb in sales of our plant-based foods, we know from conversations with customers that there is a sense of trepidation about cooking with them.
"So, our Meat-Free Butchers has been launched to encourage people to get up close to the products, try what they like and take home some valuable cooking advice and recipe inspiration.
"It's about familiarity. People see tofu and are not sure what to do with it, but if you see veggie mince it is simple to communicate what to do with it."
The pop-up store in Shoreditch will be open until June 23.