Sainsbury's acquisition of Argos has inched closer after Home Retail's board "unanimously" recommended the grocer's offer.
The supermarket giant tabled a firm bid for Home Retail Group two weeks ago, on a day of drama that saw rival bidder Steinhoff pull out of the running and focus its attention on acquiring French electricals specialist Darty.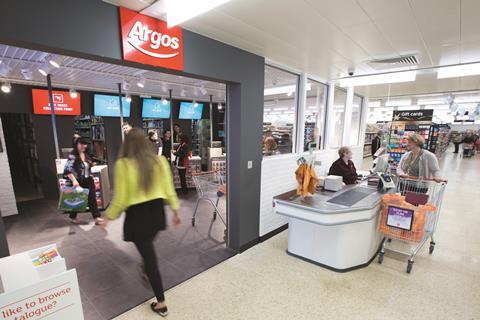 As previously reported, Sainsbury's offered a package worth £1.4bn for the group, consisting of 55p in cash and 0.321 new Sainsbury's shares per Home Retail share.
Under the terms of the deal, Home Retail shareholders will also be entitled to receive 25p per share to reflect the £200m return to shareholders in respect of the Homebase sale, plus a further 2.8p per share in lieu of a final dividend following Home Retail's financial year ended February 27.
Sainsbury's had also proposed to hand Home Retail shareholders a special dividend, but this will now not be paid.
The grocer's share price closed at 276.3p yesterday, meaning the offer for the Argos-owner is worth 143.7p per share, valuing Home Retail at £1.2bn.
But Sainsbury's added that the offer consideration and proposed capital returns together represented an indicative value of 171.5p per share, taking the valuation to approximately £1.4bn.
Next steps
Following discussions with Sainsbury's, Home Retail's directors said they "intend unanimously to recommend the acquisition" to its shareholders.
Sainsbury's said that, upon completion of the deal, Home Retail shareholders would hold around 12% of the enlarged business.
The takeover will now be now be subject to regulatory clearance from the Financial Conduct Authority, the Competition and Markets Authority and the Guernsey Financial Services Commission.
Sainsbury's chairman David Tyler said: "We are very pleased the board of Home Retail Group has recommended our offer for the acquisition of its business to its shareholders.
"The combined business will offer a multi-product, multichannel proposition, with fast delivery networks, which we believe will be very attractive to customers and which will create value to both sets of shareholders."
Tyler added that a "speedy completion" of the deal would be of interest to customers, colleagues and shareholders of both businesses.
"Our next steps are to focus jointly on ensuring we obtain the necessary regulatory clearances and that we are well prepared for the future integration of these two great retailers," he added.
Home Retail Group chairman John Coombe said: "Argos is both an icon of the British high street and also a leader in the digital transformation of UK retailing. We are pleased that Sainsbury's has recognised our progress and our potential with its recommended acquisition of Home Retail Group.
"This is a testament to the vision and hard work of management and all our colleagues. We thank them for all they have done for Home Retail Group and Argos in particular and wish them well for the future."