Sainsbury's has today launched a 'Feed your family for £50 a week' promotion where it claims shoppers can have three meals a day for an average of 60p per meal per person.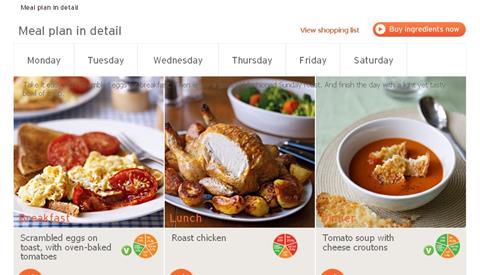 The grocer said it will provide a list of ingredients and menu cards for a family of four for seven days – 84 meals, including a Sunday roast.
A £10m advertising campaign has kicked off today and a weekly meal planner also goes into stores featuring the week's suggestions and recipes. Suggestions include bacon butties, toad in the hole, meatball pasta and a veggie stir fry.
The £50 shopping list will be on the planner, and provide shoppers with quantities and pack sizes.
The deal follows on from Sainsbury's 'Feed your family for a fiver' campaign which launched in 2008, giving shoppers a different recipe for main meals for under £5 for a family of four. The campaign has been widely credited with helping Sainsbury's through the recession and establishing its value credentials.
Claire Harrison-Church, director of brand communications at Sainsbury's said: "We know the weekly shop is one of the family's biggest regular expenses and we are really pleased that we can help to make it easier, and more cost effective. We've chosen simple, everyday items that make a healthy, tasty and nutritionally balanced seven day menu for four for just £50.
"The menu ensures at least 5 portions of fruit/vegetables a day and all ingredients meet our high quality standards, including Fairtrade bananas, British chicken, Free range eggs and Pole and line caught tuna. Home cooking doesn't have to mean cordon bleu, so that's why all our meal ideas are sensible and achievable for every family."