The direct-to-consumer trend is far from a new phenomenon, certainly in the worlds of fashion, footwear and technology.
Nike, Adidas, Dyson, Canada Goose, Apple and Microsoft are just some of the big-name brands that are cutting out the retail middle men by launching their own stores and transactional websites.
Thus far, however, grocery retailing has escaped relatively unscathed from the influx of this increasing trend.
Yet, in an interview with Retail Week in the summer of 2016, Sainsbury's boss Mike Coupe hinted at what was to come.
"There is probably a 20-year-old kid in California trying to work out ways of disintermediating the supermarket business"

Sainsbury's boss Mike Coupe
"A big trend in not just our industry, but consumer industries more generally, is towards having more choice and what I would call disaggregation and disintermediation," he said.
While it seemed unlikely that popular household brands such as Coca-Cola, Nestlé, Heinz and McVitie's would start rolling out standalone stores, Coupe warned: "There is probably a 20-year-old kid in California trying to work out ways of disintermediating the supermarket business."
He might not have gotten the age or location of the perpetrator quite right, but Coupe's prediction could be about to ring true.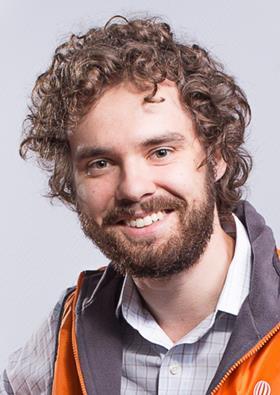 Russian entrepreneur Peter Fedchenkov – one of the speakers at Retail Week Live 2018 in six weeks' time – is threatening to send shock waves through the grocery industry with his brainchild, INS.
Decentralised consumer ecosystem
Described as a "decentralised consumer ecosystem", the website harnesses blockchain technology to provide major supermarket suppliers such as Unilever, Procter & Gamble, Reckitt Benckiser and Mars with the opportunity to sell directly to consumers through a marketplace-style platform.
For food retailers such as Sainsbury's, Tesco, Asda and Morrisons that are already feeling the squeeze from increased sourcing costs, the growth of online, hikes in the national living wage and the introduction of the apprenticeship levy, the emergence of INS could represent another blot on an increasingly stormy landscape.
"Manufacturers have finally realised that consumer data is everything"

INS founder Peter Fedchenkov
But why would suppliers run the risk of alienating their biggest customers – grocery retailers – by effectively competing with them and selling direct-to-consumer?
The attraction, according to Fedchenkov, is centred on two key pillars: data and price.
"Manufacturers have finally realised that consumer data is everything," he tells Retail Week.
"Retailers have made a great push into big data – Tesco Clubcard being one of the pioneers – getting a lot of data on consumers and leveraging that for their own benefit.
"Manufacturers, particularly in the United States, are concerned that every single day they sell on Amazon, Amazon uses consumer data and consumer insights to come up with a better product themselves. This is how they started Amazon Basics and they are now the largest seller of batteries in the US.
"Manufacturers realise that if they don't find a way to get more real-time information on their consumers, their business could be under significant pressure in the next decade or so."
Fedchenkov adds that suppliers "feel that bricks-and-mortar retailers have reached their sales potential" and are looking at alternative routes to market in order to increase revenues.
In cutting out the supermarket players, who squeeze manufacturers' margins by sourcing goods at the best lowest possible price, companies like Unilever would obtain "direct control of their P&L and their margins" by having the freedom and flexibility to set their own price points and running their own promotions.
INS, Fedchenkov explains, uses the 'INS Token' – a reward scheme "similar to airline miles" – to target loyal shoppers.
"Coca Cola might say: 'Luke is my very loyal customer. I don't want him to switch to Pepsi, so I'm going to reward him if he purchases £35-worth of my products from me per month.' They could then give him the tokens as a discount at the end of the month," Fedchenkov suggests.
"Or they could say: 'I want to convert my customers from regular Coke to Diet Coke. I'm going to give them a one-off incentive, say a 25% discount, on their first purchase.'
"This way, manufacturers could really personalise offers, target particular individuals and incentivise customers to behave how they want them to behave."
Number one retail trend in 2018
It is a compelling proposition – one that backs up Fedchenkov's theory that direct-to-consumer will emerge as "the number one retail trend of 2018" and account for 5% of global grocery sales within the next five years.
"At this moment we are talking to seven of the largest food manufacturers in the world and also to some smaller independent players," he states.
"We see huge interest in direct-to-consumer. It's very on high on management's agenda.
"Most manufacturers are still figuring out what their strategy is with regard to direct-to-consumer, but they feel direct-to-consumer is a generational issue that sits well with millennials and Generation Z."
Financial markets seem to have confidence in the project, too.
INS has already raised $41.5m through an 'initial coin offering' – an unregulated means of fundraising involving cryptocurrencies often used by start-ups.
But the real proof of concept will be in the pudding.
INS is preparing to pilot the model in Amsterdam during the second half of this year, with a host of smaller European manufacturers including Aviko, Dubro, Zijerveld and Bake Five already on board.
One major player will also take part, although Fedchenkov insists its identity must remain under wraps at this juncture.
Beyond the Netherlands, Fedchenkov is already setting his sights on Australia, from where he has seen "a lot of interest" in a grocery market dominated by Woolworths and Coles.
Detailed roadmap
He is also busy plotting "a more detailed roadmap" in his play for continental Europe, but suggests a London launch could happen "early next year".
Ahead of that arrival, Fedchenkov has some words of advice for his potential rivals on British shores.
"We are not saying that INS will completely kill retailers," he insists, "but the direct-to-consumer model has very disruptive potential.
"The supermarkets with a significant experiential component will probably have a stronger defence against the disruption.
"Consumers now value experience more than anything else. So grocery stores need to transform into smaller formats, which sell fruit, vegetables, meat, fish, but can also be used as showrooms for consumer packaged goods companies like Coca-Cola to promote new products."
Britain's grocers have been warned.
Retail Week Live 2018
Peter Fedchenkov is speaking at Retail Week Live – the UK's premier festival of retail and consumer commerce – taking place in London on March 7-8, 2018.
Find out more about his session here.
The event attracts over 1,400 retail chiefs and leading business personalities who gather to experience the unique combination of networking, inspiring content, strategic thinking and innovation.
To view the programme and book your ticket visit: live.retail-week.com