Morrisons is sweet for its new bake officer, Kanye West is popping up all over the shops and Apple has raised the bar on retailer credos.
Morrisons bake officer receives offer in icing
Morrisons has appointed the UK's first great British bake officer and sent a sweet treat to the lucky candidate to celebrate the melt-in-the-mouth job offer.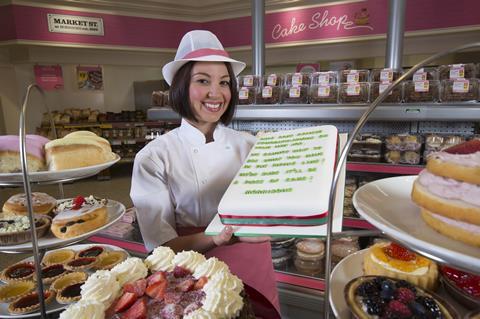 Keen baker Anastasia Duncanson was surprised to receive a showstopping cake, a true technical challenge pulled out of the icing bag by the grocer.
In her new role, Duncanson will be responsible for advising on sweet buying trends inspired by the hit television series The Great British Bake Off, and for selecting the delicious ingredients that will sell like hotcakes.
We can't wait to see what the bake officer has in the piping line and are sure the role will be a piece of cake.
Kanye West pop-up goes global
Kanye West (known to his fans as Yeezy) has once again spread his fashion wings, this time ripping up not just the town but the globe, with the opening of 21 simultaneous pop-up stores.
Each featured exclusive Yeezy merchandise tied to his most recent album, Life of Pablo, with a mix of T-shirts, hats, hoodies and denim jackets up for grabs.
Fans queued around the block on London's Old Street hoping to get their mits on some of the wares, with T-shirts starting at a hefty £70.
After West's latest claims of $53m of personal debt, perhaps this new branch of retail will ensure Jesus Walks again.
Apple's holy credo
According to a post on MacRumors.com, Apple has updated its credo – yes, they actually have a credo – one that ardently believes it was put upon this earth to "enrich lives, to help dreamers become doers, to help passion expand human potential."
The newly updated six-verse hymn reaffirms Apple's self-proclaimed 'Holy, Holy, Holy' status amid its competitors, as its employees effectively sing to one another 'How Great Thou Art'.
The motto, which it encourages its retail employees to follow, is part of a series of changes the company has put into place, including renaming of staff positions.
It remains to be seen whether it will have any impact upon sales of MacBooks, iPhones and the company's other Creations.
Amen.
Apple's new credo – Enriching Lives
We are here to enrich lives.
To help dreamers become doers,
to help passion expand human potential,
to do the best work of our lives.
At our best
We give more than we take.
From the planet,
to the person beside us.
We become a place to belong
where everyone is welcome.
Everyone.
We draw strength from our differences.
From background and perspective to collaboration and debate.
We are open.
We redefine expectations.
First for ourselves, then for the world.
Because we're a little crazy.
Because "good enough" isn't.
Because what we do says who we are.
We find courage.
To try and to fail,
to learn and to grow,
to figure out what's next,
to imagine the unimaginable,
to do it all over again tomorrow.
At our core

We believe our soul is our people.
People who recognise themselves in each other.
People who shine a spotlight
only to stand outside it.
People who work to leave this world better than they found it.
People who live to enrich lives.