Plucky Iceland pipes up again, Waterstones turns the page on the patriarchy and Debenhams gets the royal stamp of approval.
Is Iceland plucky, or clucking mad?
KFC had been henpecked this week after running out of chicken at restaurants across the UK, but help was at hand from an unlikely retailer.
Iceland plucked up the courage to offer assistance, asking on Twitter if it could support by delivering its poultry-based £10 family feast to KFC restaurants.
But the fast-food giant was on something of a wing and a prayer when asking for further help – from Iceland ambassador Peter Andre – at its "grand re-opening".
Iceland seemed to have gone clucking mad when, instead of offering the pop star's services, it re-wrote his 90s hit 'Mysterious Girl', especially for KFC.
If it's going to be a hit, they might need to track down a different kind of drumstick.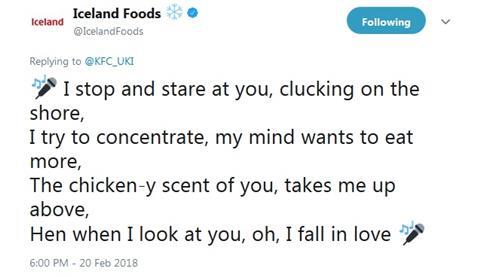 Waterstones turns the page on the patriarchy
Waterstones has teamed up with publishing giant Penguin to launch a pop-up shop that will only stock books written by female authors.
The pop-up, dubbed the 'Like A Woman' shop, will be open between March 5 and 9 on Rivington Street in Shoreditch, to tie in with International Women's Day.
The store intends to showcase the work by some of the figures who have fought for change, so books won't be organised by genre, but arranged by the impact the author has had on culture, history or society, instead.
There will be a host of events too featuring some of the best contemporary British female voices.
Debenhams gets the royal stamp of approval
London Fashion Week draws celebrities and influencers from around the world, but this year the event had a particularly special guest as the Queen herself dropped by.
Her Majesty was there to watch British designer Richard Quinn's fashion show and present him with the inaugural Queen Elizabeth II Award for British Design.
She attended the show alongside US Vogue editor Anna Wintour and British Fashion Council chief executive Caroline Rush.
The Peckham-based fashion designer's Royal nod coincided with him being added to Debenhams' roster of fashion designers.
Perhaps the department store will get a visit from Her Royal Highness as she looks to pick up some bargains in its next Sale?