Iceland mulls new strip in honour of Leicester City, House of Fraser's Harding eyes Naked Gardening Day and mischief at the meat counter in Walmart.
Iceland gets a new strip in honour of Leicester City

Iceland was so overwhelmed by Leicester City Football Club's unforeseen Premier League victory this week that they even considered a rebrand in the team's honour.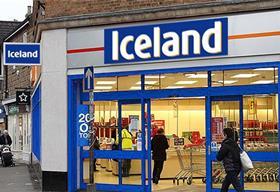 Tweeting on the morning after Leicester City's glorious win, Iceland said: "Who thinks we should turn our Leicester stores blue and white today #LCFCChampions", alongside an inspired image of the well-known Iceland fascia.
The grocer transformed its store front to match the colour of the Leicester City strip: blue instead of red.
Not sure how such a rebrand would go down in Arsenal, though!
Wisecracks at Walmart

An employee at a Walmart in-store deli has been moonlighting as a comedian to make those long shifts go faster.
Photos from a Walmart staffroom have surfaced online that show various notes from management to the employee in question – known only as Shane – warning that there will be beef if he doesn't cut back on his workplace antics.
With patience that would impress Majestic Wine in Dry January, the management request that Shane stop putting out "samples labelled as 'mystery meat'" and asking shoppers "Is that your final answer?" after each order.
Another example of the shop floor opening the door to an exciting career path.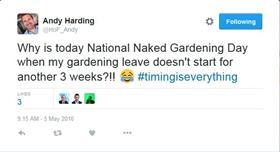 Green-fingered HoF boss eyes National Naked Gardening Day
Outgoing House of Fraser chief customer officer Andy Harding mourned the timing of his gardening leave as National Naked Gardening Day came and went this week.
"Why is today National Naked Gardening Day when my gardening leave doesn't start for another three weeks?!" he said on Twitter, adding the hashtag #timingiseverything.
Don't worry, Andy – there'll be plenty of time for tending to your tulips in three weeks before you take root in your new role.